Curried Coconut Squash Soup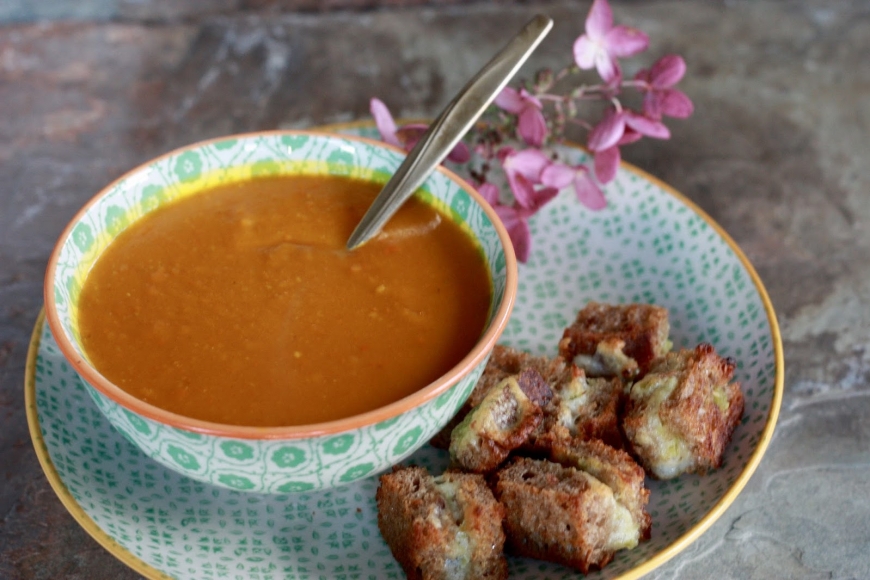 As the weather continues to turn towards fall, I have been getting back into soups and stews, and it was one such craving that inspired this Curried Coconut Squash Soup. Simple, with a creamy decadence from coconut milk and flavor-bursts from curry spices, it is my ideal weekend lunch.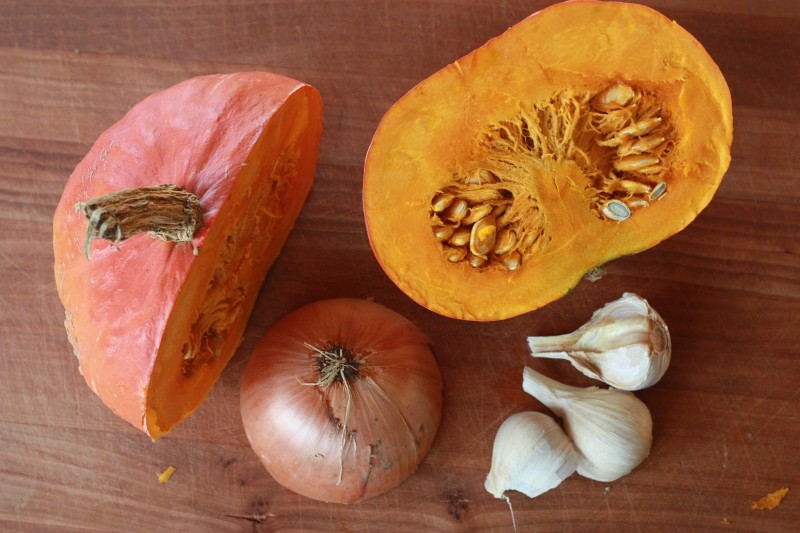 I happen to know that it freezes well, as I made a big batch to hand out to a few friends who could use the spare time these days.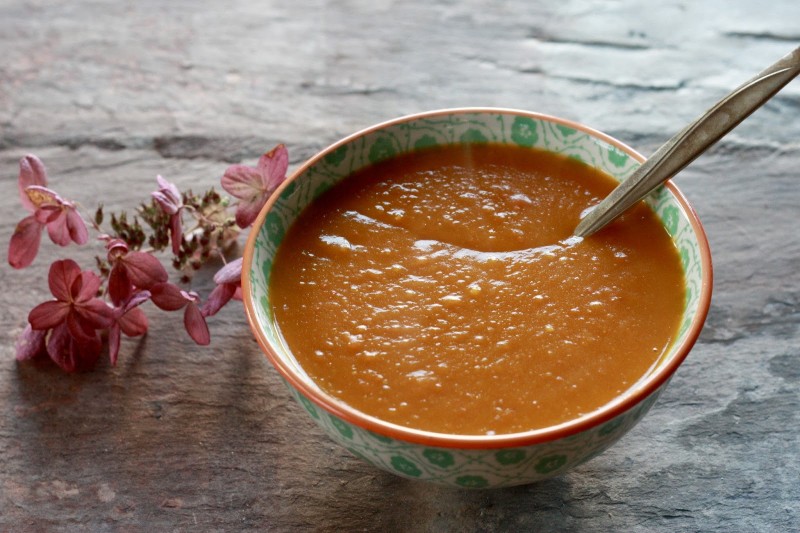 Side note: did you know that grilled cheese freezes well too? I gifted the soup with a bag of frozen Grilled Cheese Croutons (grilled cheese smothered with scape pesto and cut into bite sized cubes). Pop the thawed soup in a pot and the croutons on a baking sheet, and you have a comforting meal ready in no time flat.
Curried Coconut Squash Soup
Serves 6
Ingredients
1 tbs. coconut oil
1 small onion, chopped
2 garlic cloves, minced
2 tbs. fresh ginger, minced
1 tbs. curry powder
1 tsp. cumin
1/2 tsp coriander
2 carrots, sliced in half moons
1 medium red kuri squash, unpeeled, cubed (mine was about 3.5 pounds whole, 10 cups cubed)
1 can coconut milk
3 cups vegetable stock
2 tbs. tamari
1/4 tsp. cayenne (optional, for heat)
1/2-1 tsp salt (optional, to taste)
Directions
No need to peel the squash- it will puree smooth and you will benefit from the added fiber and time on your hands.
Heat coconut oil in a medium pot over medium heat. Add chopped onion and sauté until translucent. Add minced ginger, garlic, curry powder, cumin and coriander and continue to cook, stirring often, for 1 minutes, making sure not to burn spices. Add carrot and squash cubes, as well as coconut milk and vegetable stock. Turn up heat and bring to a boil, and then down to a simmer for 20 minutes. Check to make sure squash cubes are completely cooked. Remove from heat, add tamari and blend with an immersion blender. Once smooth, taste and adjust seasonings by adding more salt and/or cayenne pepper for heat.
Notes: Other winter squash varieties would work here as well- try buttercup, butternut or blue hubbard.