Rosemary Pesto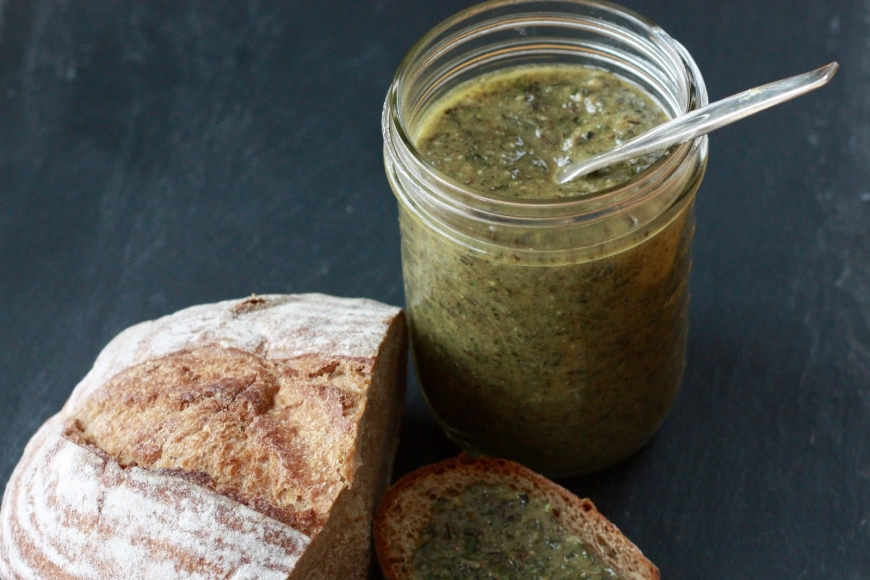 On the first day that truly feels like winter, I have a little throwback to summer for you.
Remember those herbs we talked about preserving at the end of the harvest this year? Dig those rosemary sprigs out of the freezer and let's get started.
If starting with frozen sprigs, simply let them sit out at room temperature for 30 minutes or so, until they are easy to strip off the stem.
Pesto can be the basis for so many wonderful dishes- I love to have a few different types in my freezer, ready to be pulled out for a quick dinner. Trying varying the herbs for some new twists.
Try this one instead of tomato sauce on a flatbread, with caramelized onions, fresh chèvre, and a sharp cheddar. Or tossed with some pappardelle noodles with blanched broccoli and toasted pine nuts. Or folded into a quick frittata with sun-dried tomatoes and mushrooms
Rosemary Pesto
Ingredients
2 garlic cloves
1 cup packed rosemary leaves- from fresh or frozen
1 1/4 cup toasted walnuts
1/2 tsp. freshly ground pepper
1 1/2 tsp. sea salt
Zest of one lemon
2 tsp. lemon juice
1 cup extra-virgin olive oil
Directions
Peel garlic, and mince in food processor. Add rosemary through lemon juice and continue to puree, drizzling olive oil and scraping down as needed in to achieve desired consistency.
Store fresh in the refrigerator, or freeze in ice cube trays to be used later.