Pumpkin Mac and Cheese with Toasted Breadcrumbs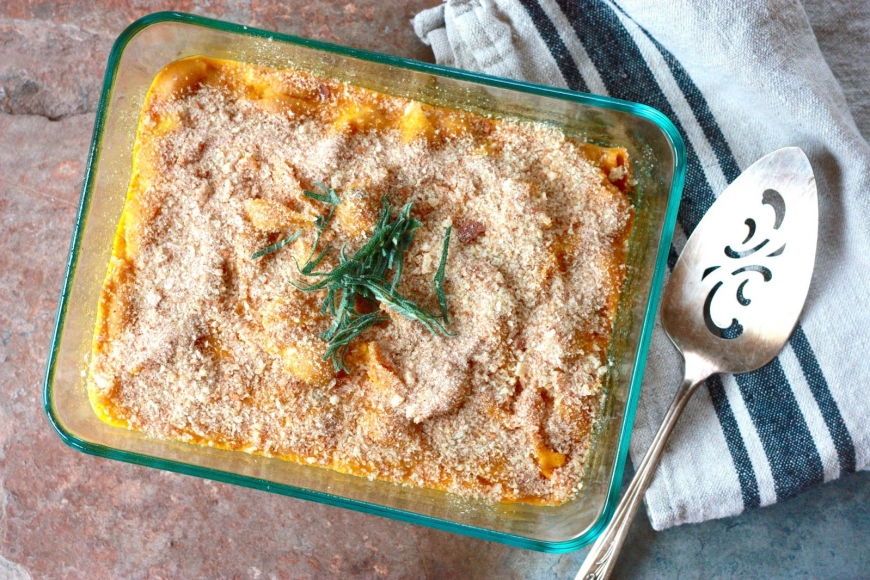 This is pure comfort food. Since it is April and still feels like winter, I'm allowing it.
Finding a love for whole foods can be a journey, which sometimes takes years to develop and cement. It's a transition, and like any other transition, baby steps are often necessary. This is a great recipe for a transitional kitchen, one that helps convince skeptics that whole foods and healthier ingredients can still be delicious and satisfying. And so the momentum builds. And bellies are warmed.
For the deepest flavor, I highly recommend roasting a pumpkin (or any winter squash) and scooping out the inside to be used in this recipe. If you are short on time or energy, canned pumpkin puree can be used, and will still be delicious (just not as delicious!). So no excuses.
This recipe can be made vegan by simply omitting the cheddar cheese. Or you can swing the other way and increase the dairy by using cow's milk in place of soy milk. Either way, I promise you'll love it.
You can even make a double batch, and freeze the second one in lunch size portions. One of our secrets to weekday success is having a stocked freezer from past meals. I chill the second one, cut it into desired portions, place those on a parchment paper lined baking sheet to freeze, and then move each one into a labeled quart sized freezer bag.
Pumpkin Mac and Cheese with Toasted Breadcrumbs
Serves 4-6
Ingredients
3 Tbs. olive oil
1 medium onion, diced
1/4 cup whole wheat flour
2 1/2 cups soy milk
1 cup pumpkin puree
1 cup sharp cheddar cheese, shredded
1/2 tsp. salt
pinch of nutmeg
1/4 tsp. freshly ground black pepper
a dash of turmeric, optional
Additional salt and pepper, as needed
1/2 lb. whole wheat pasta shells, cooked
1/2 cup breadcrumbs
2 tbs. sage leaves, sliced thinly
Directions
Cook shells al dente, according to package directions. Drain and set aside.
Preheat oven to 350 degrees.
Heat olive oil over low-medium heat in a medium pot. Add diced onions and cook until translucent. Sprinkle in flour and stir constantly for one minute, to toast slightly. Slowly pour in soy milk, a half cup or so at a time, stirring with a whisk to prevent clumping. Once incorporated, add pumpkin and continue to cook for 15-20 minutes, stirring often, or until thickened. Add shredded cheese, salt, nutmeg, black pepper and dash of turmeric. Taste and season with additional salt if needed (don't under-salt!)
Mix pumpkin cheese sauce with cooked pasta shells and pour into a oiled baking pan. Top with breadcrumbs. Bake in 350 degree oven for 25 minutes, or until sides are bubbling and breadcrumbs are toasty. Serve garnished with sage.