Pinto Bean and Vegetable Tamale Pie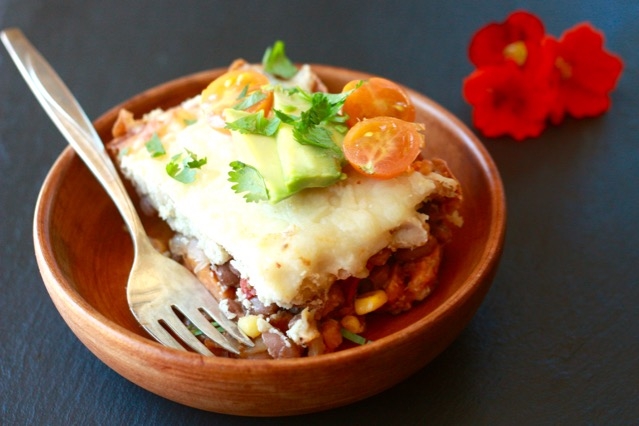 I've been making tamale pies for some time, they are such a quick and easy twist on a traditional tamale, with a larger emphasis on the filling than the dough that surrounds it. They are easy to make in bigger batches, to freeze the extra portions, or serve to a crowd.
Masa harina is a very finely ground cornmeal treated with limestone. It is the key to authentic tamale and tortilla dough- you should be able to find it at most well stocked natural food stores.
Feel free to vary the vegetables according to the season, just don't forget the ripe avocado and fresh cilantro for the top.
Pinto Bean and Vegetable Tamale Pie
Serves 4-6
Ingredients
1 tbs. coconut oil
1 medium onion, diced
2 cloves garlic, minced
1 medium yam, diced
1 tsp. cumin
½ tsp. dried oregano
1 red bell pepper, diced
2 ears corn, or 1 cup frozen, kernels removed
1/4 tsp. chipotle powder
1 tbs. tamari
1 ½ cups pinto beans, or one can
salt and pepper to taste
2 cups masa harina
1 tsp. baking powder
1-2 cups water or vegetable stock
2 tbs. olive oil
1 cup shredded cheddar or pepper jack, optional
Directions
Heat oil in a large skillet over medium heat. Add onion and sauté until translucent. Add garlic and yam, stir and cover. Cook for 15 minutes or until yam is soft, adding a tablespoon of water as needed to prevent sticking and stirring occasionally. When yam is soft, add red pepper, cumin, oregano and corn, cook 5 minutes. Add chipotle powder, tamari, beans and 1/4 cup water to skillet, continuing to cook until the ingredients have come together and the liquid has evaporated. Remove from heat.
Preheat oven to 375.
In a large bowl, combine masa harina and baking powder. Stir in 1 cup of water or stock and olive oil. You should have a firm but slightly tacky dough. If it seems too dry, add more water/stock as needed.
Transfer bean and sweet potato mixture into a small baking 9x9 baking pan. Spread masa dough in an even layer to cover. Top with grated cheese, if using.
Bake for 25-30 minutes, or until masa is firm to the touch and cheese is beginning to brown.