Roasted Red Pepper Hummus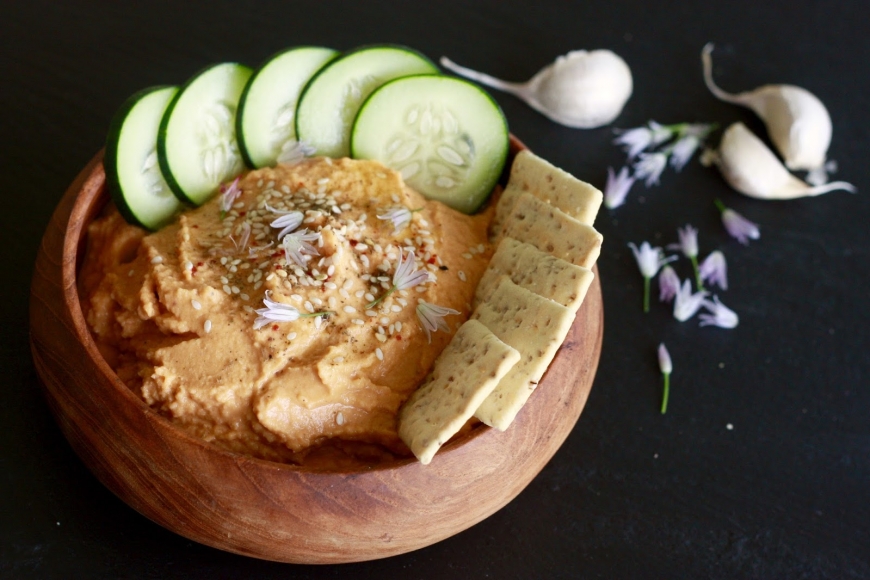 The genius of this recipe is in the preparation of the chickpeas. Soaking and cooking the chickpeas with baking soda changes the acidity, and allows for a pillowy bean that purees away in to a silky dip or spread. It's truly magical.
I definitely did not come up with this one on my own- it is greatly inspired by Chef Solomonov of Zahav in Philly.
Don't be afraid to make this in a bigger batch- say triple, and then portion and freeze it. The originator might disagree, correctly explaining that hummus is best served fresh and never refrigerated. However, we all live in reality, where time is precious and frozen staples can be your ticket to healthy eating during the busy work week. So I give you permission.
The variations are endless here- we like to try to change it up every time we make a batch. Take out the roasted red peppers and add cilantro or basil. Or roasted garlic. Try a healthy pinch of berbere spice blend for a Ethiopian flavor. Or curry powder for an interesting kick. Keep it simple, or play with complexity, it's all good.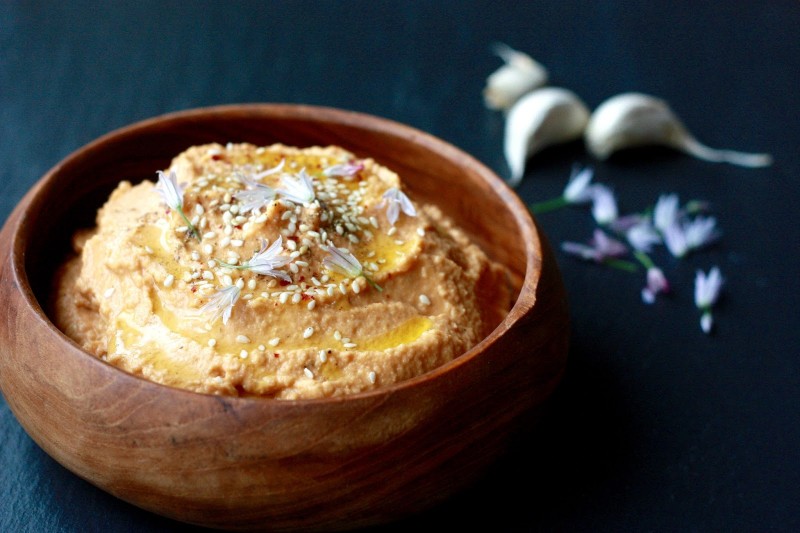 Roasted Red Pepper Hummus
-- Inspired by Chef Solomonov's recipe Hummus Tehina --
Ingredients
1 cup dried chickpeas
2 tsp. baking soda, divided
2 garlic cloves
1 lemon, zest and juice
1 tsp. salt, plus more to taste
1/2 cup tahini, best quality you can find
1/2 tsp. ground cumin
2 roasted red peppers, about 1 cup chopped
Garnishes: a drizzle of olive oil and sesame seeds or z'atar
Directions
Soak chickpeas along with 1 teaspoon of baking soda overnight in plenty of water in a large bowl. Drain and rinse. Place in a medium pot with the remaining teaspoon of baking soda and water to cover the chickpeas by a few inches. Bring to a boil, and turn down to a simmer. Cook, uncovered, until very very soft, about an hour. You want them softer than normal- basically until they have no bite left to them. Drain and rinse with cold water.
In a blender, combine remaining ingredients. Process until very smooth, letting the blender run for almost a minute, scraping down the sides as necessary. Add water as needed so that it is blending easily.
Place chickpeas and tahini sauce in a food processor and blend until completely smooth. This may take a few minutes. Again, add water as necessary to reach the right consistency. Taste and adjust with additional salt and pepper. Serve garnished with a drizzle of olive oil and sesame seeds (and chive blossoms if they are in season!)