Green Pancakes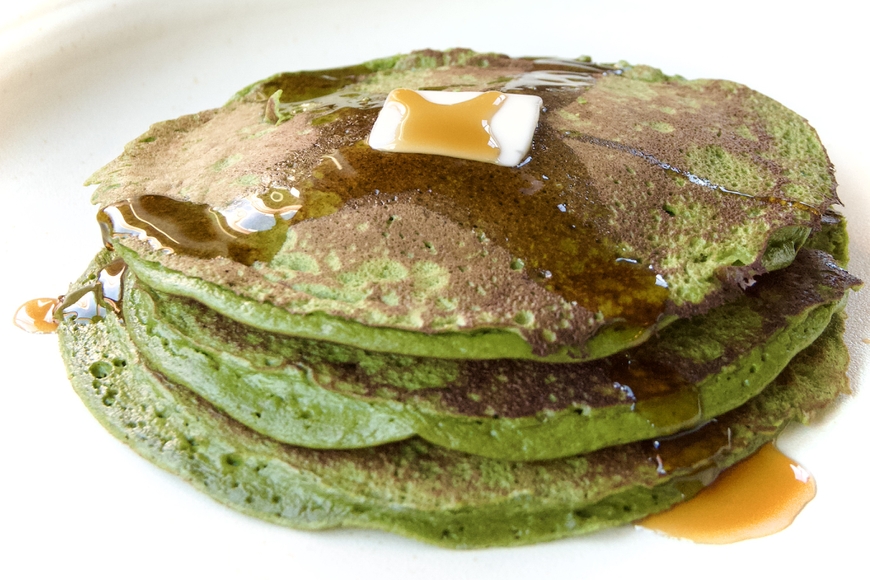 I have to admit, I am not a huge pancake person. But once in awhile, they definitely hit the spot. My kids however- they will eat anything that is acceptable to douse in maple syrup.

Here is what makes these pancakes different: they actually fill you up with long-lasting energy, avoiding the spike-and-crash roller coaster ride typically experienced after flour-filled breakfasts. These guys are packed with high quality protein and fiber along with a subtle sweetness from unrefined sugars- I even add a few handfuls of kale to pack in some extra antioxidants. I wonder when my kids will figure out that pancakes aren't usually green?
Green Pancakes

Ingredients

1/4 cup Nut/Seed Butter (Almond, peanut, cashew, even tahini works...)
4 Eggs
2 tbs. Ground Flax Seed
2 Bananas
healthy pinch of sea salt
1/4 tsp. cinnamon
2 large kale leaves or 1/2 cup fresh or frozen spinach
Topping choices: Homemade jam, maple syrup, banana slices, fresh berries, cinnamon, whatever your heart desires...
Directions

Preheat a cast-iron pan over medium heat. In a blender, add all ingredients and blend until very smooth.
Once pan is hot, coat with a touch of coconut oil or butter. Pour in 2 tbs. to 1/4 cup of batter at a time, tipping pan to spread batter. These cook fairly quickly, so as soon as you see bubbles forming, flip and cook for an additional minute on the other side.
To serve, top with your favorite toppings and enjoy immediately.