Crispy Fiddlehead Poppers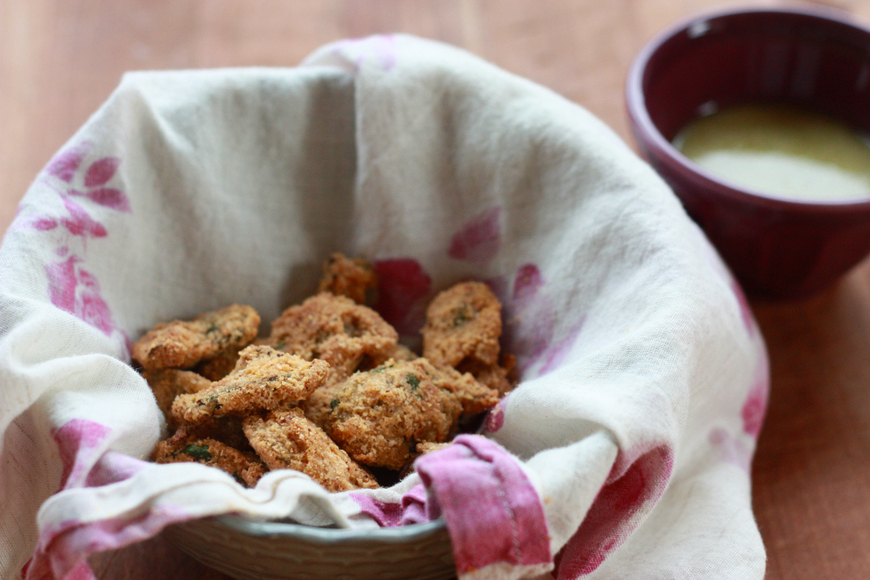 This year, I wanted to share a Fiddleheads recipe, which only seems overdue, given my name and love for the wild fern. Around here, they are the ultimate harbinger of spring, popping up before much else has to offer us a taste of the growth that is to come.
Nutritionally speaking, these shoots are rich in Vitamin A and C, iron and manganese as well as omega-3 fatty acids.
It seems as though most recipes out there center on either pasta, garlicky sautés or pickling, so I wanted to share something a little different. This recipe is a bit addicting, and I can imagine it would go over well across the age groups. Not a bad way to get your ferns in.
These poppers are super quick and easy, and pretty fool-proof. They reheat well- just pop them back on a sheet pan in a 350 degree oven for 5 minutes or so. You want to enjoy these babies hot.
I enjoy them by themselves, but a dipping sauce does truly bring them over the top. Today I mixed equal parts plain whole milk yogurt with a lemon vinaigrette I had in the fridge, and that was delightfully rich yet tangy. I can imagine they would be great with any sort of aioli you could dream up, or my vegan raw almond "aioli" (with or without the cilantro, depending on your stance).
Crispy Fiddlehead Poppers
Serves 2
Note: if you do not have access to sumac, replace with garlic granules or powder.
Ingredients
2 cups fiddlehead ferns, washed well and trimmed
1/2 cup blanched almond flour
1/2 tsp sumac
1/4 tsp. smoked paprika
1/2- 3/4 tsp. sea salt (depending on your salt level preference)
1 large egg
1 tbs. oil for drizzling
Directions
Preheat oven to 400 degrees.
Clean and dry and fiddleheads well, trimming to a 1/2 inch below the furling head.
In a medium bowl, mix together almond flour, sumac (or garlic), smoked paprika and sea salt.
In a separate medium bowl, beat egg. Add in fiddleheads and toss well. Using a slotted spoon, remove fiddleheads from egg, letting excess drip off. Move in to almond flour mixture bowl and toss to coat very well.
Place breaded fiddleheads on a parchment paper lined baking sheet. Drizzle with oil. Bake for 10 minutes. Rotate pan and continue to bake for another 5 minutes. Remove pan, flip fiddleheads and return to oven for the final 5 minutes.
Serve immediately with your favorite dipping sauce.