Eggplant, Tomato and Zucchini Gratin with Basil Cashew Cream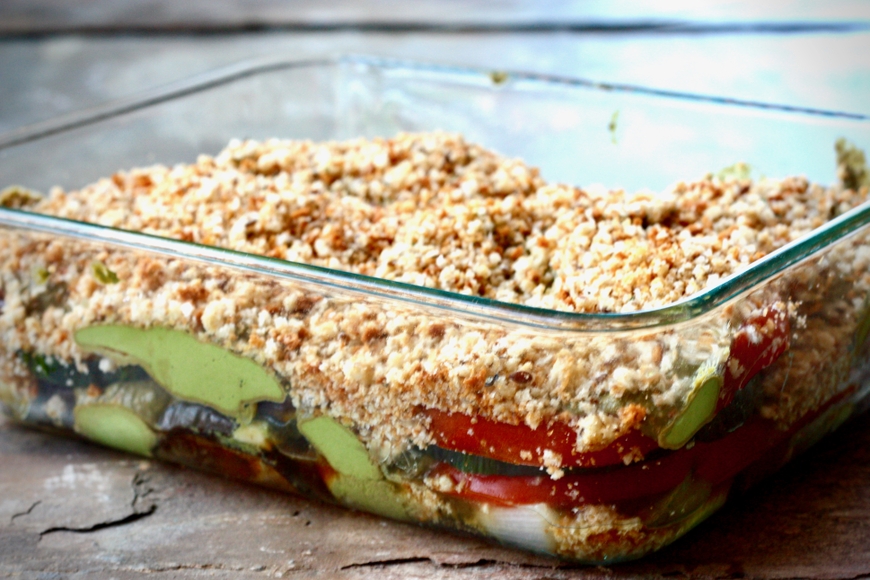 This is a simple dish to celebrate the summer flavors filling the farm stands and bursting out of the gardens in August. Don't be intimidated by the seemingly long list of ingredients- they really aren't that scary. I have faith in you.
I grew loads of garlic this year as I ended up planting my entire harvest last fall. Garlic is my new favorite crop- plant your cloves in the fall, and in the spring, your garden will be sprouting with little green shoots before you have even sorted through your seeds. Each clove grows a new head of garlic, and choosing to plant your biggest cloves will promote larger growth.
Soaking and pureeing raw cashews produces a luscious "cream" sauce- highly adaptable and simply delicious. Add a bit more water and you end up with a cream or salad dressing, use less and you have the perfect dollop for an appetizer or garnish. Eliminate the savory ingredients, add some maple syrup, cinnamon and vanilla and top your favorite dessert instead of whipped cream. Here are a few examples to experiment with if you are interested: No-bake Chocolate Torte, Eggplant Manicotti, Raw Chocolate Truffles.
Cashews are high in the monounsaturated fat oleic acid, the same compound found in olive oil, that promotes cardiovascular health. Also high in the essential minerals copper and magnesium, cashews provide important antioxidants for bone, muscle and nerve function. Like all nuts and seeds high in delicate oils, cashews are best stored raw in the freezer to avoid rancidity.
Eggplant, Tomato and Zucchini Gratin with Basil Cashew Cream
Serves 8
Ingredients
2 medium eggplants, sliced into rounds
4 medium zucchinis, sliced into rounds
1/4 cup grapeseed or olive oil, divided
1 large onion, chopped
2 cloves garlic, minced
3 large tomatoes, sliced
5 slices bread (whole grain or gluten-free)
1/2 tsp. garlic powder
1 tsp. fresh thyme
salt and pepper to taste
2 cups basil leaves
1 cup cashews, soaked and drained
2 tbs. nutritional yeast
2 cloves garlic, minced
1 cup water
1/2 a lemon, zest and juice
3/4 tsp. salt
Directions
Preheat the oven to 400 degrees. Toss the eggplant and zucchini with 2 tbs. oil and spread onto parchment lined baking sheets. Season with salt and pepper. Roast for 20-30 minutes, until tender and beginning to turn golden. At the same time, toast the bread in the oven for 10-20 minutes, until crunchy. Remove and cool.
Heat remaining 2 tbs. of oil in a medium pan over low-medium heat. Sauté onions until translucent, add garlic and continue to cook for 2 minutes. Season to taste and set aside.

To make the bread crumbs, rip toast into pieces and place in a food processor with garlic and thyme. Pulse until crumbled. Taste and season with salt and pepper.
For the basil cream, rinse the food processor bowl and add remaining ingredients (basil through salt). Process until smooth.
To assemble gratin, lightly oil a 9 x 13 baking pan. Add one layer each of eggplant, zucchini, onion and garlic and top with tomatoes. Spread on half the basil cream, and repeat layers in the same order. Pour on the rest of the cream and cover with breadcrumbs. Place in the oven and cook until heated through, about 15 minutes.