Emerald Kale Salad in a Lemon Tahini Dressing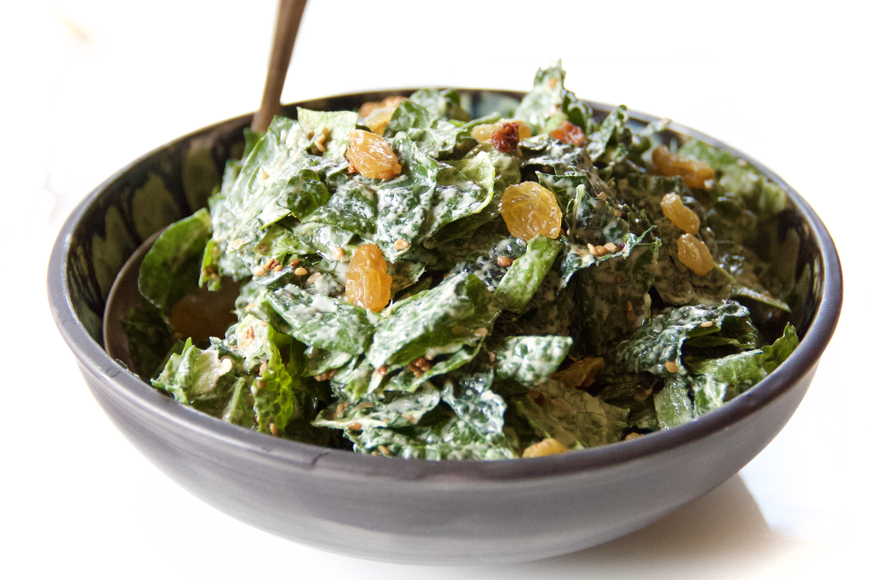 Like many people, my love for raw kale was not immediate. Let's face it, the stuff can be bitter and a tad much to get through. It took some experimenting and advice-searching to discover the techniques to making raw kale salads go from "blah" to "aaahh", but in my kitchen (and head), the switch has been turned.
Here is the secret: to break down the rough and tough leaves, dress the kale and then rub or massage it for a few minutes with your fingers. It's fun, really. You'll notice the leaves start to turn a deeper green and lose a bit of their structure. Add your toppings and then let your entire salad sit for 15 minutes or so before serving. The result is a heady salad that tastes just as delicious as it does healthy. I swear, I can feel the chlorophyll energizing my cells before I can even put down my fork.
This salad comes along with maple toasted sesame seeds, tiny dried currants and diced crystallized ginger for a warming fall dish. Chewy, zesty with little bursts of crunch, the flavors and textures both run deep.
I probably don't have to convince you how healthy kale is, but here is a bit of information to help you enjoy every bite. High in fiber, Vitamin K, iron and omega-3 fatty acids, it is considered a "hearty green" in the cruciferous family. This particular family (think broccoli, brussel sprouts, cabbage etc.) has been connected to a myriad of health benefits, including lowering the risk of cancer, heart disease, diabetes and auto-immune disorders while promoting blood sugar regulation and decreasing inflammation. To top it all off, the sesame seeds in this dish provide additional iron and calcium along with healthy monounsaturated fats.
Rubbed Kale Salad
Serves 6
Ingredients
1 large head of kale
1/2 cup unhulled sesame seeds
1 tbs. maple syrup
2 tsp. tamari
1/2 tsp ginger
1/4 cup tahini
juice and zest of 2 lemons
1 tbs. olive oil
1 large garlic clove
1 tsp. maple syrup
1/4 tsp salt
1/4 cup dried currants
1/4 cup crystallized ginger, minced
Directions
Remove kale stems, tear leaves into bit-size pieces and wash and dry thoroughly.
Heat a medium cast-iron pan over low-medium heat. Add sesame seeds and toast, stirring occasionally, for about 5 minutes or until seeds begin to brown. Add syrup, tamari, and ginger, tossing to coat. Continue to toast for another minute, remove from pan and let cool.
In a blender, combine tahini through salt to make the dressing. Blend until smooth.
Pour dressing over prepared kale and toss to coat. Using your finger tips, massage dressing into the kale until leaves begin to turn dark green and lose some of their structure. Test for texture and flavor, adjusting seasonings as necessary (you may want to add additional salt). Toss in currants and minced crystallized ginger. Set aside to let the flavors marry for about 15 minutes before serving.