Homemade Pineapple Honey Facial Mask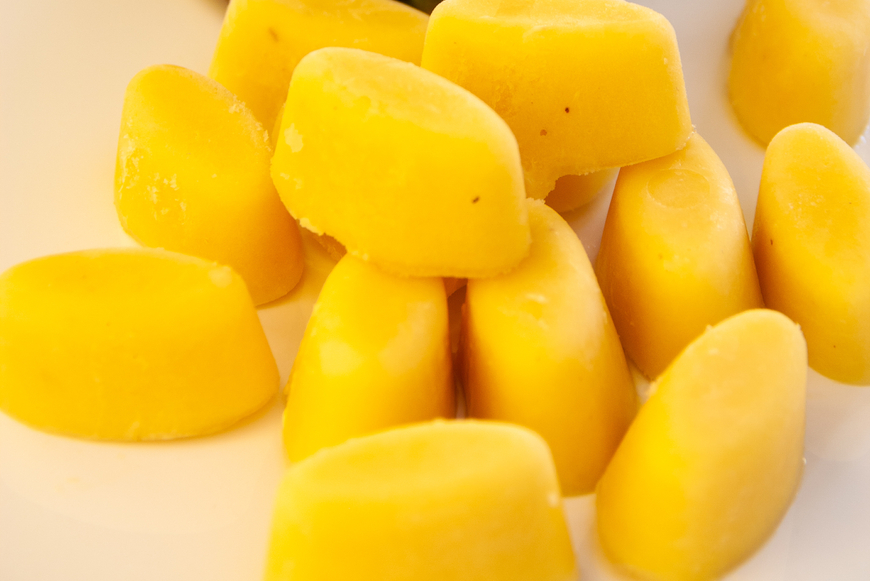 Over the past few years, I have moved almost exclusively to skincare products that I can make myself. The reason is simple: as I learned more about the unpronounceable ingredients in most products, I began to only be comfortable with those with very simple ingredient lists. It wasn't long before I realized I could just make them myself and save tons of money.
This is my weekly face mask. The trick with most homemade products without preservatives is that they either need to be mostly oil based (as soon as you add water, you need to add preservatives) or be easily refrigerated/frozen. I like to make this face mask with a whole pineapple, then pour the batch in to ice cube molds to freeze. Each Friday (or Thursday night if I'm on top of it) I pull one out of the freezer to defrost and apply before I shower.
You may have noticed that pineapple derivatives are a common ingredient in many natural skincare products. Pineapple contains the enzyme bromelain that is extremely exfoliating without being too harsh on your skin, improving circulation and removing dead skin cells. This mask has a very pleasant tingling effect as it dries.
This is a great weekly routine to take up during the holiday season for a moment of self care and for the scents of the tropics during these cold days.
Pineapple Honey Face Mask
Ingredients
1 small organic pineapple, ripe
1 tbs. unrefined coconut oil, or sweet almond oil
2 tsp. raw honey
Directions
Prepare the pineapple by cutting off each end, and then removing the skin in a thick enough strips to also remove the eyes. Cut in to quarters lengthwise and remove the core from each quarter. Cut flesh in to chunks and add to blender. Add remaining ingredients and blend until completely smooth, scraping down the sides as needed.
Pour into 1-2 ice cube trays and freeze until solid. Once frozen, remove to a labeled freezer bag until use.
To use, defrost one cube into a small bowl. Once liquid again, use hands to spread the mixture in a thin layer to cover the face and neck. Leave on for 5-10 minutes, until tingling has lessened and it is mostly dry to the touch. Remove with a hot washcloth or in the shower.