Vegan Kale Caesar Salad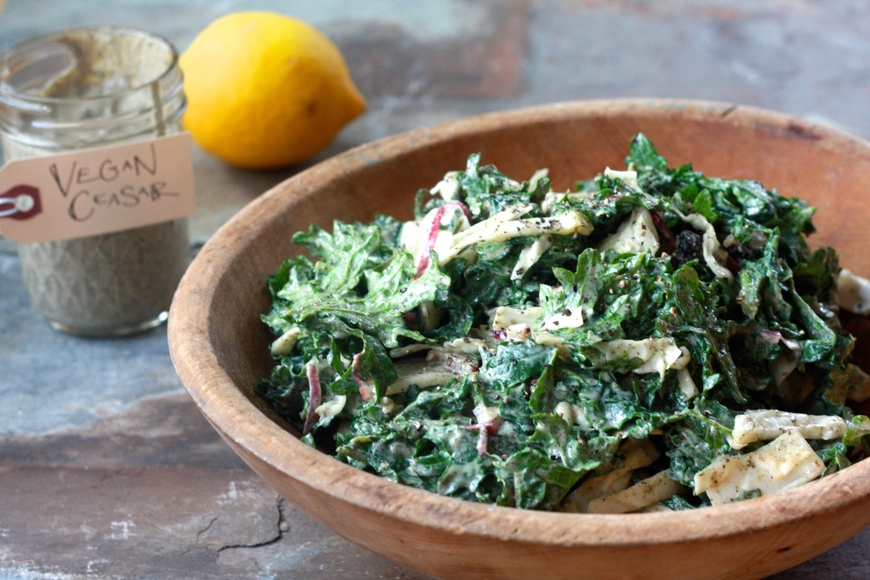 With the colder months quickly approaching, I can already feel the taste of fresh tomatoes slipping out of reach. This salad helps the harvest dishes continue into the winter months when you can still find local kale, cabbage and radishes.
This dressing is one of my favorites. Every time I throw this myriad of slightly-obscure ingredients into the blender and come out with a disarmingly accurate vegan rendition of caesar dressing, I surprise myself all over again. A great example of a product that is a million times better than the sum of it's parts. The original recipe pairs it with the traditional romaine-crouton-parmesan trio, so feel free to go in that direction if you prefer.
Vegan Kale Caesar Salad
Serves 6
Ingredients
2 Tbs. tofu
1 large clove garlic, peeled
1/2 sheet nori, toasted and crumbled
2 Tbs. olive oil
1 Tbs fresh lemon juice
2 Tsp. balsamic vinegar
1 ½ tsp. miso
1 ½ tsp mustard
1 ½ tsp capers
1/2 tsp tamari
1/4 tsp salt
1/8 tsp pepper
1 cup brazil nuts
1 garlic clove, minced
pinch of salt

1 head of kale, or about 6 cups baby kale
2 cups shredded cabbage, red or green
1/2 cup red or daikon radish, in slivered half moons
1/2 cup currants, or other dried fruit of preference
1/2 small red onion, minced
Directions
Combine all dressing ingredients in a blender and blend until smooth and creamy.
To make the Parmesan, combine Brazil nuts, garlic and salt in a food processor. Pulse for one minute. This part is optional- don't let it stop you if you don't have the brazil nuts on hand. A great substitute is raw almonds, if you prefer.
To serve, toss kale through red onions in a large bowl with dressing, using just enough to coat. Top with Brazil Nut Parmesan, if using. Due to the hearty greens in this salad, it actually stores well and can be made in advance if necessary.