Basil Fettuccine in Sweet and Smoky Corn Cream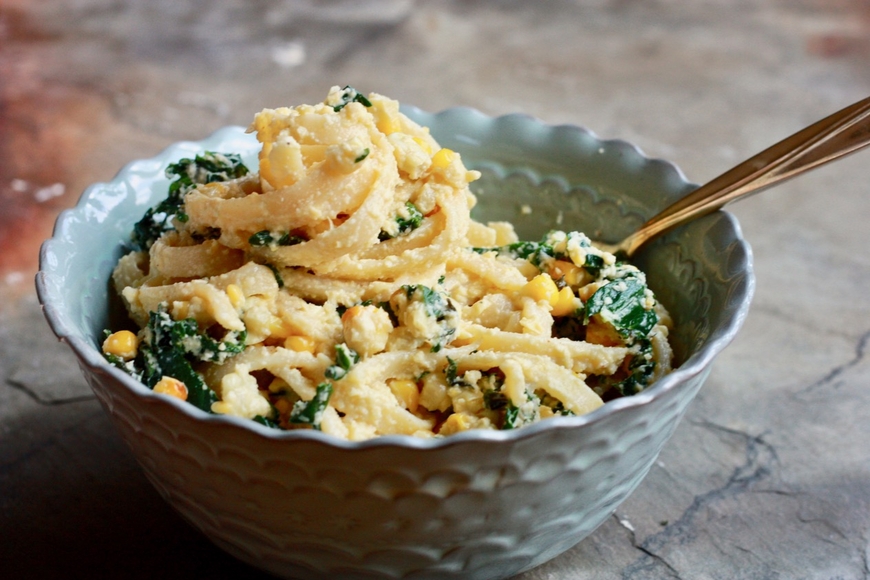 I am not a huge pasta-monger, but will enjoy some whole-wheat ribbons every once in awhile- as a comforting treat. I tried this out with gluten-free quinoa pagoda pasta as well and enjoyed it just as much, for those of you avoiding gluten.

A warning about corn- just like soy and wheat, corn is a commodity crop in the US, so it is important to be careful about your sources. It is extremely common for corn to be grown from GMO'd seeds, so when shopping at your local farmers market or farm stand this summer, make sure to ask the grower if their corn is GMO-free. The organic label will guarantee this practice, but I have found there are many farmers out there without the certification that make a point to avoid GMO seeds, so it is more a matter of having that conversation. Not to get preachy, just wanted to share that information, for the health of our soil, seeds, bodies and agricultural future.

Soaking the almonds overnight will neutralize their phytic acid, rendering their precious nutrients more digestible, as well as make it a breeze to pop off the skins. They will bloat and absorb quite a bit of the water while soaking, which results in a nice creamy texture when pureed. If you want to avoid the step of popping off skins, you could substitute the almonds with whole raw cashews.
Basil Fettuccine in Sweet and Smoky Corn Cream
Serves 8

Ingredients
1.5 c almonds, soaked overnight, skins removed
1.5 cups corn kernels, blanched (can use frozen if out of season)
1 cup water or vegetable stock
1-2 tablespoons olive oil
1 large garlic clove, minced
1/2 a small onion
juice and zest of 1/2 a lemon
1 tablespoon honey
1/4 -1/2 tsp. salt, to taste
½ tsp chipotle powder
8 oz. whole wheat fettuccine or gluten-free pasta
2 cups corn kernels, blanched (can use frozen if out of season)
1 bunch kale, stems removed and sliced into strips
½ cup basil, sliced into strips
Salt to taste
Directions
Place almonds through chipotle powder in a blender and blend until smooth, scraping down the sides as necessary. Taste and adjust with honey for sweetness, lemon juice for tartness, oil for richness and chipotle powder for smoky heat. And, of course, salt to taste.

Cook pasta according to directions. In the last minute of cooking time, add the kale ribbons, and stir. Drain and rinse. Return to pot and add whole corn kernels and basil. Toss with corn cream and additional liquid to reach your desired texture and flavor. I like mine with a nice coating of thicker sauce and dose of salt, with an extra pinch of red pepper flakes. If reheating, additional liquid may be necessary, as it tends to thicken up.