Baked Sweet Potato in a West African Peanut Sauce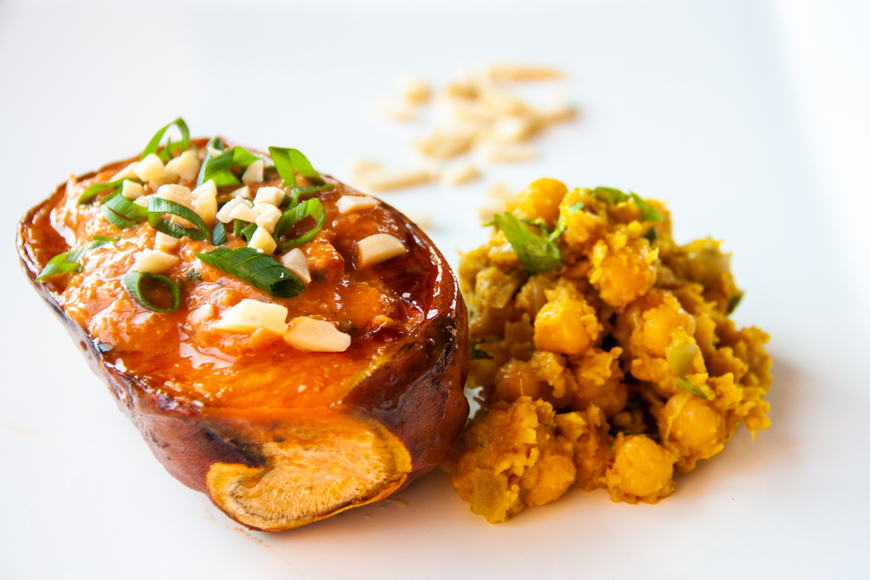 With our new winter wonder landscape, I find myself craving hot meals more than ever. Comforting, sweeter flavors- most often involving root and storage crops of some sort. My kitchen has been graced with steamy soups and stews, roasting beets, and crispy carrots over the past few weeks.

This recipe is one of my favorites because it meets all the criteria while adding some interesting flavor spins- mainly in the west African direction. Hints of toasted spices, salty peanut butter, spicy ginger and fresh herbs combine with sweet and fluffy roasted sweet potatoes to produce winter nirvana.
And of course, as we edge towards the new year, it is always nice to start eating a bit lighter. I enjoy this as a main dish with a fresh green salad on the side and call it a meal. Satisfying, deeply comforting and still quite light. Sweet potatoes offer a grounding force, connecting back to the soil during the time of year where we forget what worm-ridden earth feels like in between our fingers. High in magnesium, potassium and fiber, sweet potatoes have proven to promote heart health by relaxing artery walls.

Baked Sweet Potato in a West African Peanut Sauce
Serves 6
Ingredients

3 large sweet potatoes (I like garnet yams)

1 tablespoon coconut oil
1/3 cup red onion, finely chopped
1 tablespoon fresh ginger, grated
2 garlic cloves, minced
1 1/2 teaspoons ground cumin
1 1/2 teaspoons ground coriander
1/8 teaspoon ground red pepper
3/4 cup water
3/4 cup tomato sauce
1/4 cup peanut butter
1 teaspoon raw cane sugar
1/4 teaspoon salt

2 tbs. chopped fresh cilantro
Directions
Preheat oven to 425 degrees. Scrub potatoes well and poke each with a fork several times. Place potatoes on a baking sheet (they will ooze!) Bake for 45 minutes to 1 hour, or until soft all the way through.
To prepare the sauce, heat oil in a medium skillet over medium-low heat. Add onion, ginger, and garlic and cook 3 minutes. Add cumin, coriander, and pepper; cook 1 minute. Add ¾-cup water and next 4 ingredients (through salt), stirring until smooth; bring to a simmer. Cook 2 minutes or until thick. If desired, place sauce in a blender and blend to preferred consistency. Sprinkle with chopped cilantro and serve.