Latin Fiesta Slaw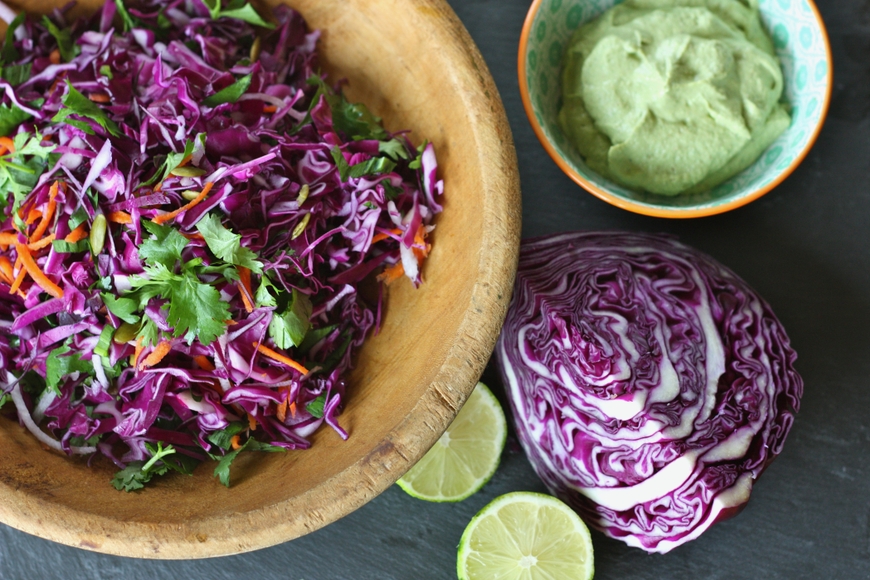 Since discovering my love for non-mayonaise based slaws, this recipe has quickly become a favorite. I try to incorporate at least one raw vegetable dish into each meal. Nutritionally, this practice adds a kick of enzymatic activity to aid digestion as well as readily available micro-nutrients and antioxidants. Culinarily speaking, it rounds the meal out with fresh flavors and crisp textures.
I must admit, I wasn't always a cabbage lover. In fact, I don't think it ever really graced our table when I was a kid. It was not until a few years ago that I fell in love with its delicate bitterness and crunch-factor. Not to mention that it is one of the most inexpensive and nutrient-rich vegetables out there. A member of the cruciferous family (think brussels, broccoli, kale etc.), cabbage is rich in glucosinolates found to lower the risk of cancer, anti-inflammatory anthcyanins, and glutamine used to sooth the digestive tract. To boot, one cup of raw cabbage contains over half of your Vitamin K for the day, 40% of your Vitamin C needs and loads of fiber. Each variety offers unique benefits, so feel free to experiment with purple, green, savoy or napa cabbage.
Latin Fiesta Slaw
Serves 4
Ingredients

3 cups red cabbage, shredded
1 cup carrot, grated
1 orange, diced, plus zest
1/4 cup red onion or scallion, minced
2 tbs. jalapeno, diced (optional)
2 tbs. hemp or pumpkin seeds, raw
3 tbs. extra virgin olive oil
2 tbs. tahini
Juice and zest of 1 lime
1 cup cilantro (stems and leaves), minced, plus more for garnish
½ tsp. salt
1 tbs. maple syrup
salt and pepper to taste

Directions
Combine first 6 ingredients (cabbage through seeds) in a large bowl.
Prepare dressing by combining oil through syrup in a blender until smooth. Pour over vegetable mixture and toss well. Taste, and adjust to taste with additional salt, pepper and cayenne. Chill until serving and garnish with additional cilantro leaves.