Beet Burgers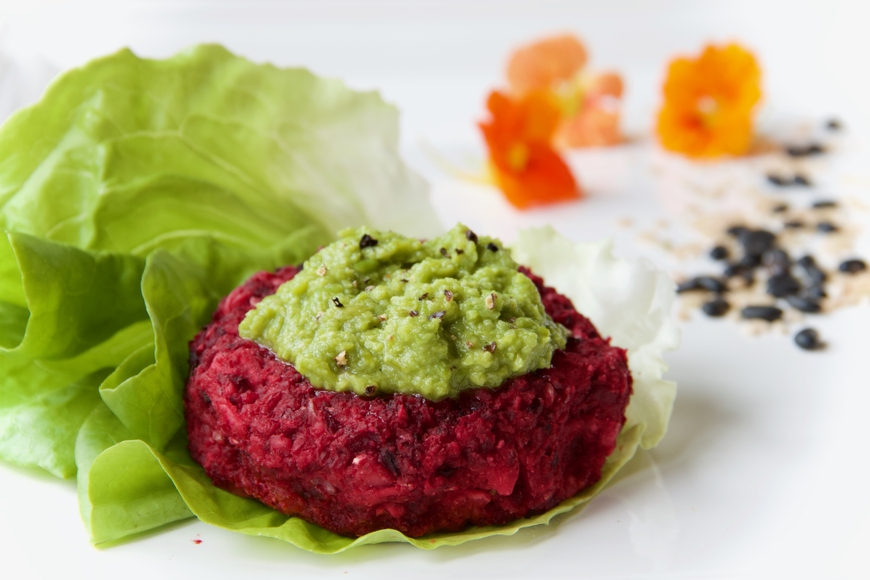 Boasting a clan of unusual ingredients, it is a true veggie burger unlike any you could ever find in the freezer aisle, which to me are the epitome of blah. This new version will bring your vegetarian world from the dorm room to the banquet table.
Utilizing whole grains such as brown rice and oatmeal, it has a hearty texture and will keep you satisfied through the night. Plus, it is always nice to have a few recipes in the box that use up the leftover rice that has been sitting in your fridge since last weekend. The trick is to let the mixture blend in the food processor for several minutes until it comes together to form a sticky patty, which takes the rice breaking down and releasing it's glutenous properties.
I love the idea of shredded beets (which give the raw patties the appearance of their slightly bloodier relative), but if it is a bit too crimson for you, I could imagine using carrots and parsnips instead without sacrificing flavor.
I like to serve my veggie burgers with a lettuce "wrap" instead of buns, but you could certainly go the more traditional route if desired.

Beet Burgers
Serves 6
Ingredients

1 medium beet, roughly chopped
1 small onion, roughly chopped
1 garlic clove, minced
1 ½ cup or 15 oz can kidney beans, cooked and rinsed
½ cup oatmeal, uncooked
1 cup brown rice, cooked
1 tsp chipotle powder, plus more to taste
1 tbs. tamari
1 tbs. tomato paste
¼ tsp. oregano
¼ tsp. thyme
¼ cup brown rice flour
Salt and Pepper to taste
Directions
Preheat oven to 400 degrees. In a food processor, add beet, onion and garlic and process until fairly smooth. Add beans and pulse several more times. Add the remaining ingredients and process until well blended. Season to taste with salt and pepper.
Line a baking sheet with parchment paper. Using your hands, take about ½ cup of beet mixture from the food processor and shape it into a patty. Place on parchment paper and repeat with remaining beet mixture. Bake for 15 minutes, or until the bottoms begin to brown lightly. Flip and bake for an additional 10 minutes, checking to make sure they aren't getting too tough.
Serve immediately, or if reheating, lightly fry in a skillet with a dash of oil until golden brown on each side.
Serve Beet Burgers over fresh greens, topped with avocado or your favorite spread.