Raw Ranch Kale Salad with Roasted Pumpkin Croutons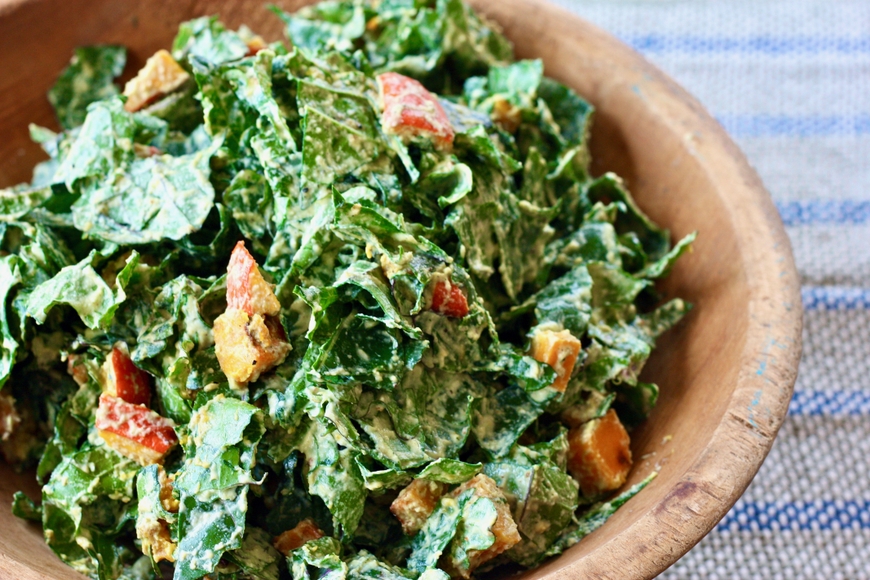 This raw ranch salad dressing is a classic in my kitchen. Sometimes we all crave a little comfort on our plate- a little throw back to childhood- an itch only ranch dressing can scratch. This is for those days.
I am not sure about you, but my eating habits have morphed quite a bit since my Amy's Cowgirl Ranch days, and frankly, my taste buds along with them. So some adaptations are often necessary. This vegan ranch dressing gets its creaminess from soaked and pureed cashews, its kick from fresh herbs (particularly dill) with a hint of garlic and sea salt. Simple, satisfying and completely comforting- minus the buttermilk stored at room temperature and weird preservatives.
Most of the time I toss it with crispy lettuce leaves, shredded carrots, slivered radishes and some smoky shitake strips (more on that another day). But, alas, it is now fall creeping on winter and this week's version helped make that transition with hearty kale and roasted pumpkin croutons. A version I will definitely be repeating.

A hearty green in the cruciferous family, kale is packed with vitamin K, which promotes bone health and protects against heart disease. Loaded with fiber, vitamins A and C, its nutrition definitely trumps summer lettuce. Toss on some magnesium rich pumpkin, and protein packed dressing, and you have yourself a nice start to a meal. To round it out, think about serving this alongside a nice fall chili or smoky black bean soup.
Raw Ranch Kale Salad with Roasted Pumpkin Croutons
Serves 6
Ingredients
1 bunch kale (about 10 stalks)
4 cups pumpkin or winter squash, 1/2 inch cubes (I leave the skin on)
1 Tbs. coconut oil, melted
1/2 tsp. sea salt

1/2 cup raw cashews, soaked at least 4 hours
6 Tbs. water
1 1/2 tsp. apple cider vinegar
1/2 tsp. salt
1/4 tsp. black pepper
1/2 tsp. onion powder
1 small garlic clove
1/4 cup fresh dill
2 Tbs. chopped parsley
Directions
Preheat the oven to 425 degrees.
In a medium bowl, toss together the pumpkin with the oil, and salt. Place in one layer on a parchment lined baking sheet and roast, tossing once, until browned and crisp, about 15-20 minutes. Set aside.
Remove stalks from kale, wash and dry leaves. Tear or chop into bite size pieces and place in a large bowl.
Blend the dressing ingredients (cashews through parsley) in a blender until smooth and creamy. Adjust seasoning to taste.
To serve, dress the salad to coat the kale and toss in the pumpkin croutons. Taste and adjust with salt to taste.