Sesame Noodles with Ramps and Black Pepper Tofu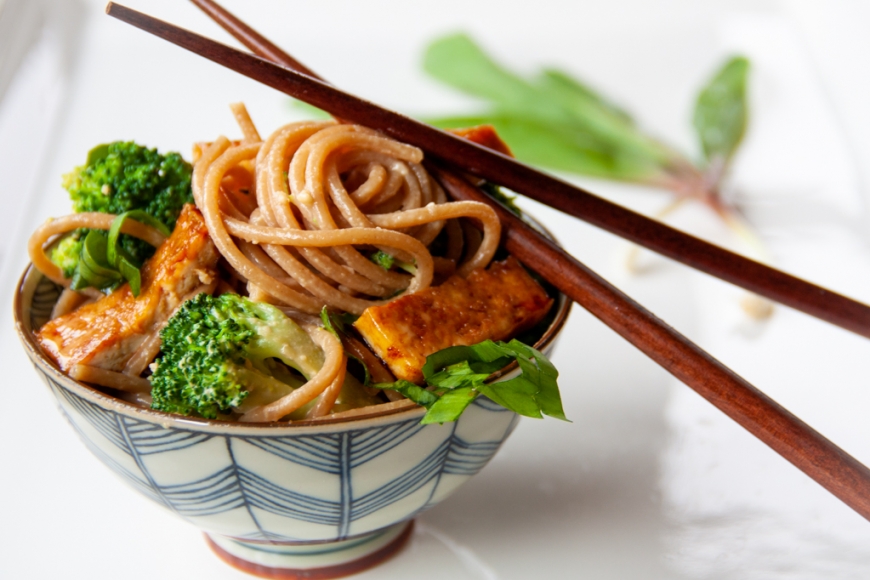 Spring is ramping up (see what I did there?!?) which means wild onions are ripe for the picking. These are one of my favorite wild edibles, as they signal the very beginning of the growing season here in Vermont.
For more ramp recipes, check out Peppercorn Pickled Ramps, which has some good information about sustainable harvesting and Ramp Butter, a recipe I developed to serve at our wedding back in the day.
You might recognize this sesame sauce from my Quinoa Fried Rice recipe- it is a favorite in our house. You could make a double batch and plan both menus in one week for some kitchen ease.
The rest comes together pretty quickly, which makes this a relatively doable weeknight meal, or better yet saved for the weekend when the cooking can be leisurely, with a chilled drink in hand.
Sesame Noodles with Slivered Ramps and Black Pepper Tofu
Ingredients
12 ounce whole wheat spaghetti
2 small heads of broccoli, chopped into florets
3 tbs. tahini
3 tbs. tamari soy sauce
2 tbs. honey or maple syrup
1 tbs. toasted sesame oil
2 garlic cloves
1-inch ginger root
1 tbs. unrefined coconut oil
16 ounce extra firm tofu, sliced to pencil width
3 tbs. tamari soy sauce
2 tbs. maple syrup
1/2 tsp black pepper, ground
1/2 cup ramps or scallions, thinly sliced
Directions
Set a medium pot of water over high heat until boiling. Add spaghetti and cook according to package directions, minus 2 minutes. Add broccoli florets and continue to cook for an additional 2 minutes. Test, and if pasta is al dente and broccoli is tender, drain, rinse and set aside. I actually like to add the entire thing to my salad spinner and give it a few whirls to remove all the excess water, but that part is optional.
In a blender, combine tahini through ginger root to make the sesame sauce. Set aside.
In a large pan, heat coconut oil over medium heat. Add tofu in a single layer and cook until bottom is light brown and beginning to puff. Flip and repeat on other side. Add tamari and syrup and continue to cook until sauce is absorbed. Stir in black pepper and remove from heat.
In a large bowl, toss cooked pasta and broccoli with the sesame sauce and sliced ramps. Serve into bowls and top with tofu.