Kale-a-Kopita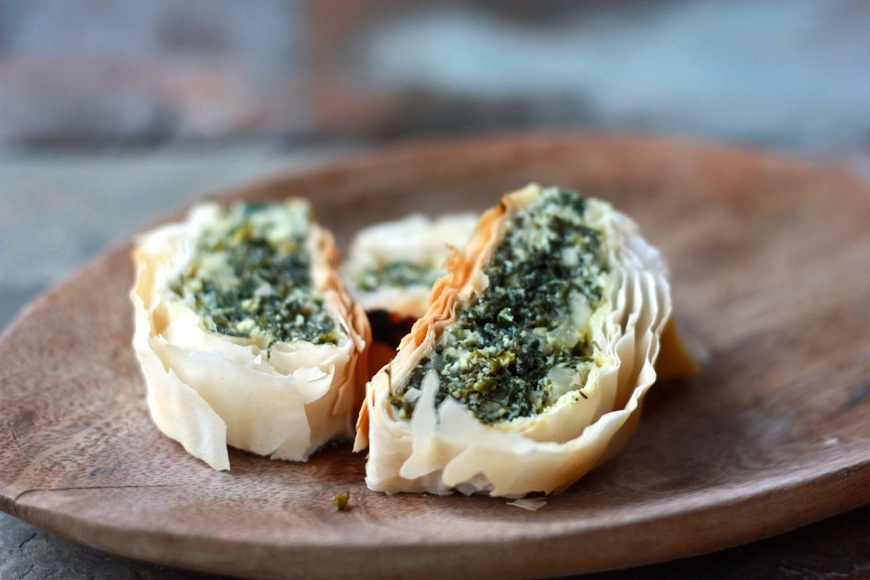 Kale is a nutritional superstar, a green superfood, if you will. Super high in Vitamins K and A, this hardy green has the power to lower cholesterol, protect against free radicals and fight inflammation. Particularly rich in glucosinolates, which act inside our system as potent anti-cancer compounds, kale can play an active role in our preventative medicine routines. I love that it nourishes me into the winter, when my body needs it most.
If you enjoy spanikopita, you are going to love this kale-centric version. Go for high-quality ricotta and feta for this dish- it makes a difference. Around here, I love Maplebrook Farm for both products.
Kale-a-Kopita
Serves 6
Ingredients
5 filo dough sheets, thawed (cover with a damp towel while not using)
1 yellow onion, diced
3 cloves of garlic, minced
1 tbs. olive oil
1 lb. spinach, chopped if leaves are large
1 large bunch green kale
8 oz whole-milk ricotta
2 large eggs
1/2 cup crumbled whole-milk feta
2 tbs. fresh dill
2 tbs. fresh parsley
1 tsp salt
1 tsp fresh ground black pepper
Juice from 1/2 a lemon
1/2 tsp fresh grated nutmeg
2 tbs. butter or oil, melted, more as needed

Directions

Prep kale and spinach by washing thoroughly. Set spinach to steam until completely wilted. Drain and set aside. Once cool, squeeze out as much liquid as possible. Grabbing one kale leaf at a time, strip out stem and tear into pieces.
In a heavy skillet, saute the diced onions in olive oil over low heat until slightly softened. Add garlic, stir for one minute and add kale. Cook until kale is completely wilted. Set aside to cool.
In a large mixing bowl combine ricotta, eggs, feta, dill, parsley, salt, pepper, lemon juice, and nutmeg. Mix thoroughly.
Add spinach and kale mixture to the large bowl . Stir ingredients until well combined and greens are distributed evenly. Taste, and adjust for salt. If desired, add a few dashes of red pepper for heat.
Preheat oven to 400 degrees. Line a baking sheet with parchment paper.
On a large cutting board, lay out one sheet of filo dough, with the long side facing you. Brush with melted butter. Repeat until 5 sheets of filo dough are stacked, brushing with a thin layer butter between each layer.
After the stack is completed, spread the feta and greens mixture along the long side facing you, about 2 inches from the edge. Carefully, roll up the dough to form a log starting with the side the feta mixture is on. The butter will help the sheets to stick together.
Place completed log on parchment lined baking sheet. Score the top of the log with diagonal lines using a sharp knife in 1-2 inch segments. This will make it easier to cut when the kale-a-kopita is finished baking.
Bake at 400 degrees for 30-35 minutes. Begin checking logs at 30 minutes and every 5 minutes after that. Kale-a-kopita is finished when it is golden brown on the top and mostly golden on the sides.
Allow to cool on the counter for 10 minutes before slicing. Serve warm or at room temperature.
*Note- if multiplying this recipe for a larger crowd, make sure your logs have plenty of room between them while baking. They will expand and risk bursting when baked too close together.