Italian Baked Kale Chips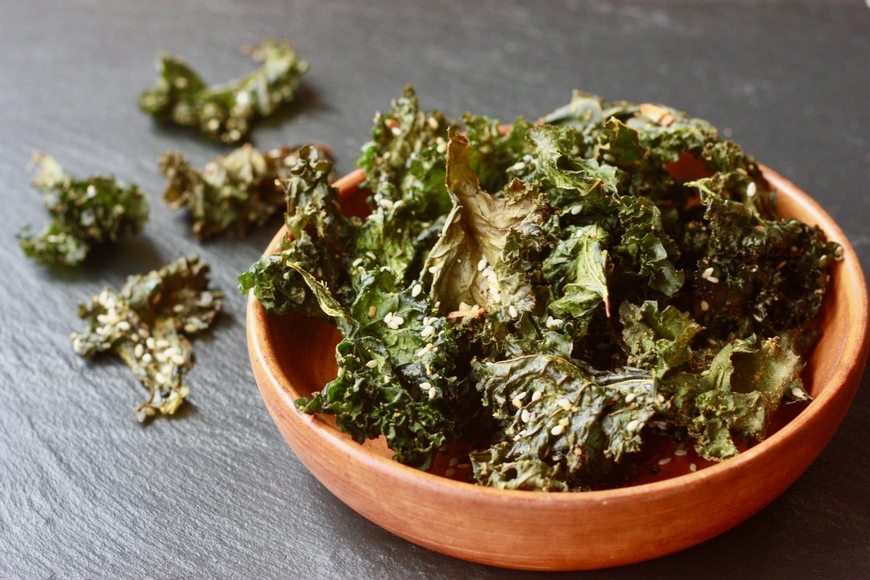 These are absolutely addicting. ADDICTING. But not in the "I can't believe I just ate the whole bag" kind of way. More like "woah I can't believe I just devoured a whole head of kale" internal dialogue. Not a bad trade. I'll take it.
I love to make these extra garlicky and spicy with a hefty pinch of red pepper flakes, or none at all. I have used a number of different kale varieties, and all have been wonderful, although I think purple kale is still my favorite. Have fun exploring Lacinto (or dinosaur) kale as well as the traditional green curly kale as well. All wonderful AND chock full of amazing nutrients.

I could go on forever, but I will attempt to convince you of Kale's nutritional prowess in just a few sentences. Kale is a cruciferous vegetable that falls under the "hearty green" category rich in chlorophyll, Vitamin K, C, A, and iron. It's insoluble fiber content helps bind with bile in the digestive tract and effectively cleanse and detoxify the body of built-up toxins. It is extremely rich in caretonoids and flavonoids (two types of antioxidants) that have been shown to protect against cancer and lower cholesterol. Lastly, due to it's Vitamin K and Omega-3 content, it is extremely anti-inflammatory, helping ease oxidative stress within the system and promote over-all health. Ok ok, I'm done. I hope you are convinced.
When tossing the kale in the oil, you are looking to rub it in gently without massaging or breaking down the kale's structure (which you intentionally do when making a raw kale salad). You are looking for a slightly oiled feeling, but not at all greasy. I like to start with less oil and add more if needed, to find just the perfect amount. This may be tricky at first, but you will find your preferred oil level after you try it once, and will have it all figured out for the next time.
Italian Baked Kale Chips
Serves 4 (or 1, in my case)
Ingredients
1 head of kale (your favorite variety)
1 tsp. olive oil
1 tsp garlic granules
1 tsp. onion powder
1/2 tsp. salt
1 tbs. nutritional yeast
1/2 tsp. paprika
red pepper flakes to taste
Directions
Preheat oven to 300 degrees.
Wash kale, and dry very well. Tear into large pieces, removing tough stems. Place in a large bowl with remaining ingredients and toss to coat. If you need a dash more oil, add it now and work it in lightly.
Place on a large baking sheet (or two) in a single layer. Bake in oven for 10 minutes, remove, gently toss, and continue to cook for 5 minute intervals until dry and crispy (usually between 20-30 minutes). I find that a longer cooking time at a lower temperature results in chips that hold their crispiness.
Note: If you have access to a dehydrator, these make a great raw snack if dehydrated at 105 degrees for 2 hours. Keeping food below 105 degrees preserves the active enzymes and more fragile vitamins and minerals.