Butternut Squash Apple Soup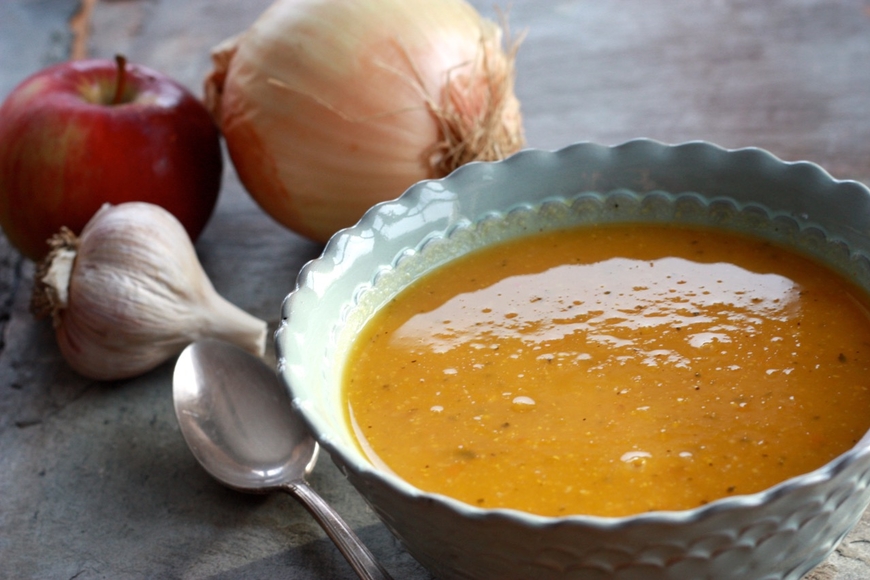 When I make a recipe over and over again, I decide that it is blog worthy. Mostly for selfish reasons- I actually use my own blog to access recipes more often than I might like to admit.

This is one of those instances. I find that I make this soup at least once per month in the winter- often for potlucks and events as well.
It is just too easy- mostly made of storage vegetables that most have on hand anyway, as well as being vegan and gluten-free, it is one of those dishes that everyone can enjoy it. My food version of that comfy sweater that you just can't seem to take off.
Nutritionally speaking, this is just a pile of vitamin A. 214% of your daily requirement in just one cup, to be exact. Offering some substantial antioxidant support, specifically in the arena of caratenoids, a cup of this winter wonder also provides us with nearly 30% of our daily Vitamin C needs. Move over miso soup, we have another immune booster in town. (for the record, I do realize how dorky I sound)
Vegan Butternut Squash Apple Soup
Serves 2-4
Ingredients
1 tbs. coconut oil
1 small onion, chopped
1 large garlic clove, minced
2 cups butternut squash or yam (or combo), cubed
1 large carrot, chopped
1 tart apple, chopped
1 cup corn kernels, fresh or frozen
2 cups vegetable stock
2 tbs. fresh sage leaves
¼ tsp. sea salt
chili flakes, to taste (optional)
Spoonful of yogurt or coconut milk (optional)
Directions
Heat a medium pot with coconut oil over low-medium heat. Add onion, sauté until translucent, about 5 minutes. Add garlic, squash/yam, carrot, apple and corn. Continue to sauté with lid on until squash is soft, another 10 minutes, stirring occasionally. Add stock, sage, salt and chili flakes if using. Using a blender, an immersion blender if you have one, puree to desired texture. Sometimes I like to leave mine fairly chunky by just pulsing several times, and other times I go for a creamier consistency- it is all up to you. Taste and adjust seasonings as desired.