Chocolate Avocado Mousse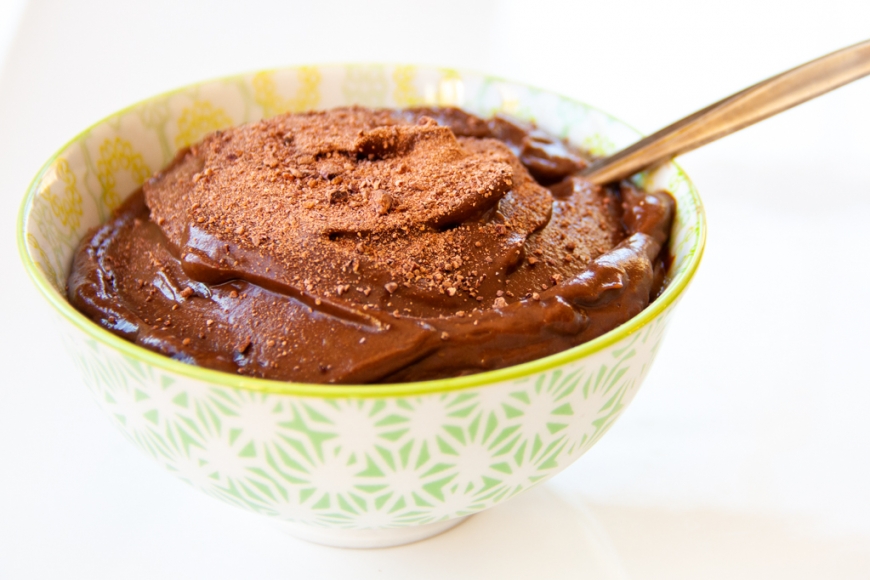 I'll start with a confession- I'm writing this recipe as if it serves two, but in reality, it might be closer to one. Which seems like a lot of avocado in one sitting, but I am just telling it to you straight.
This is one of those recipes that whips up on a whim, as long as there are ripe avocados in the house. You throw all of the ingredients in the food processor, and whip and scrape repeatedly, until completely smooth. That part is key- it might take a few extra minutes and scrapes than you're used to.
I left the quantities a little loose for the salt and syrup as you can adjust these to taste. My favorite combination is 1/4 tsp salt and 3 tbs. maple syrup.
I topped this with a spoonful of ground raw cocao nibs, but I'll admit that most days I'm not that fancy.
If you missed my tip last month about storing perfectly ripe avocados for more than a week, here you go:
So you bring home that slightly green avocado, and let it ripen at room temperature. If you are in a hurry, you can stick it in a brown bag with a ripe banana or apple to speed up the ripening process.
When it is perfectly ripened (you know because it will give just barely when you give it a gentle squeeze, is mostly dark brown and the stem/nub easily comes off) you stick it in the fridge. That is it, a perfectly ripened avocado will stay in that exact state for a week or longer in the fridge, instead of turning to grey mush the next day when left out.
Chocolate Avocado Mousse
Serves 2
Ingredients
2 avocados
2 tbs. cocoa powder
3-4 tbs. maple syrup
2 tbs. oat milk
1/8-1/4 tsp salt
Optional toppings: 1 tsp. raw cacao nibs, ground
Directions
Halve the avocados, remove pits, and scoop flesh into food processor. Starting with 3 tbs. of maple syrup and 1/8 tsp. of salt, add all remaining ingredients and process until smooth. This might take a few rounds of scraping down the sides and continuing to whip. You want this really smooth. Adjust with additional syrup and salt to taste, if desired. Scoop into a bowl, and top with some ground cacao nibs if the day is feeling extra special.
That's it! Store in the fridge until serving, or to save the leftovers.