Cashew Cocoa Truffles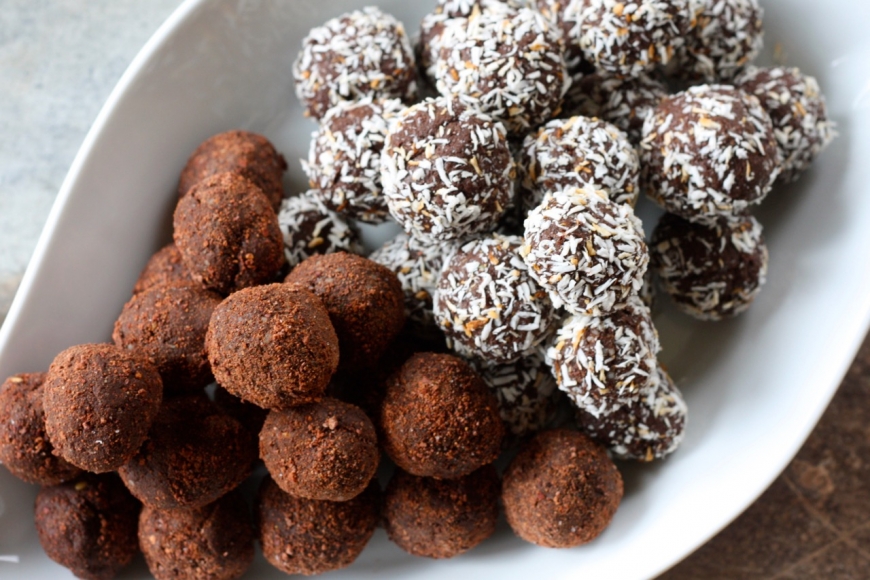 These truffles benefit from the rich density of pureed tree nuts, without having a distinctly "nutty" flavor. Although they can be tinted with a variety of flavors, they always manage to satisfy my cravings for true CHOCOLATE, while avoiding those annoyingly obvious healthy undertones found in some of my desserts. I promise, these will be a crowd pleaser no matter who you are surrounding yourself with these days.
I hope this week you indulge in what makes you happy, surround yourself with positive energy, and take the time to appreciate the raw nature at your front door.
Chocolate Cashew Truffles
Makes 15 medium truffles
Ingredients
1 cup raw cashews, soaked for one hour
¼ cup raw honey or maple syrup
½ cup cocoa powder
2 tbs. ground flax
1 tbs. coconut oil
1 tsp. vanilla
¼ tsp. salt

Optional garnishes: ground raw walnuts, toasted shredded coconut, cocoa powder, ground cacao nibs
Directions
In a food processor or high powdered blender, blend cashews and honey/maple syrup into a smooth butter. Add remaining ingredients and process until smooth and blended. Remove to a small bowl.
Place desired garnishes in separate bowls. Taking 1-2 tbs. of truffle batter at a time, roll into a small ball and roll in desired garnish. Place truffles on a flat plate or baking sheet and freeze for at least 1 hour. Let stand at room temperature for 5 minutes before serving.