Apple Cider Donuts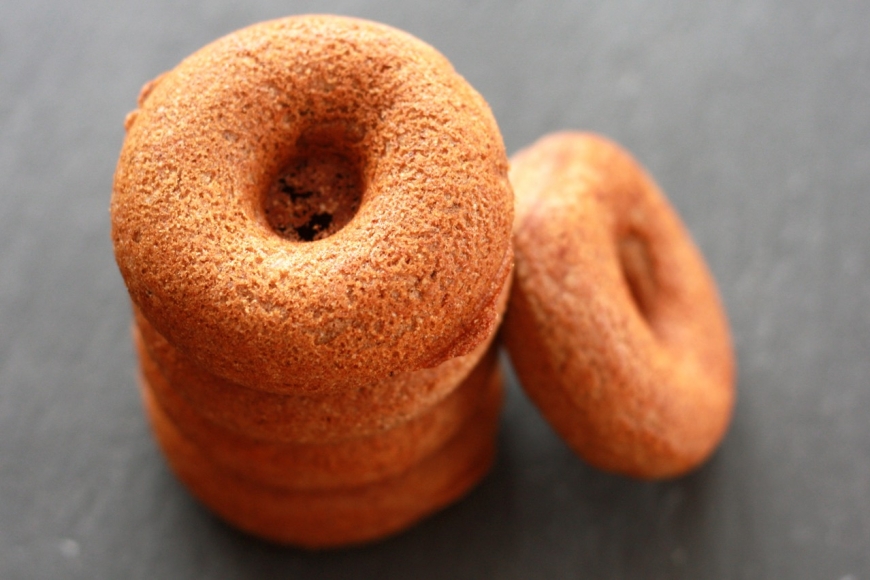 Ok, I have to admit first thing- these contain no apple cider. But Applesauce Donut did not have the same ring- and the spices and flavors just sing cider to me. So please excuse my blatant misnomer and embrace my benign intentions of conjuring up the most comforting, perfectly-spiced baked good possible.
Everyone loves a good donut. Let's just admit that as a group. With a steaming cup of coffee, preferably kicking off a road-trip, there is nothing quite the same. When we were crossing the country, or traveling throughout the west, the California 24-hour donut shops were a mandatory stop.
However, let's be honest. Although they taste like heaven, most donuts leave you feeling less than stellar. So naturally, I had to come up with an alternative (especially given my donut loving-partner in crime). These donuts are based around freshly ground brown rice- providing whole grain fiber and powerful manganese and selenium. Unlike typical donuts that spike blood sugar levels, these provide long-lasting energy with quality carbohydrates, fat and protein.
But I promise you, it is the fresh orange zest and ample ground spice that send them over the top.
The soaked ground flax serve as a egg substitute- providing a binding quality without the animal protein. If you are psyched on farm fresh eggs, simply substitute with 2 eggs.
The one catch- they do require a donut-maker. I am sure an oven-baked version would work with a donut pan, although I have not tested it and can not offer oven temperatures or cooking times. I am sure a little experimentation and a watchful eye will lead you in the right direction.
Apple Cider Donuts
Makes 20 small donuts

Ingredients
2 tbs. ground flax mixed with ¼ cup water
Zest from 1 orange
2 cups unsweetened applesauce
½ cup maple syrup or honey
1/3 cup extra-virgin olive oil
2 cups brown rice flour, preferable freshly ground
1 ½ teaspoon baking soda
1 teaspoon cinnamon
¾ tsp. pumpkin pie spice (mixture of allspice, nutmeg, cloves, cardamom and ginger, freshly ground if possible)
½ teaspoon salt
Directions
Preheat donut maker.
Grind rice flour freshly if possible.
Puree flax mixture, zest, applesauce, honey and oil in a medium bowl. Whisk flour, baking soda, cinnamon, pumpkin pie spice and salt in a large bowl. Create a well in the center of the dry ingredients and pour in the wet ingredients. Gradually stir the dry into the wet and stir until combined.
Spoon mixture into donut maker and bake for 5 1/2 minutes. Cool on baking rack before storing in an airtight container. Can be stored for 3-4 days, or frozen for delayed enjoyment.