Lasagna Stuffed Spaghetti Squash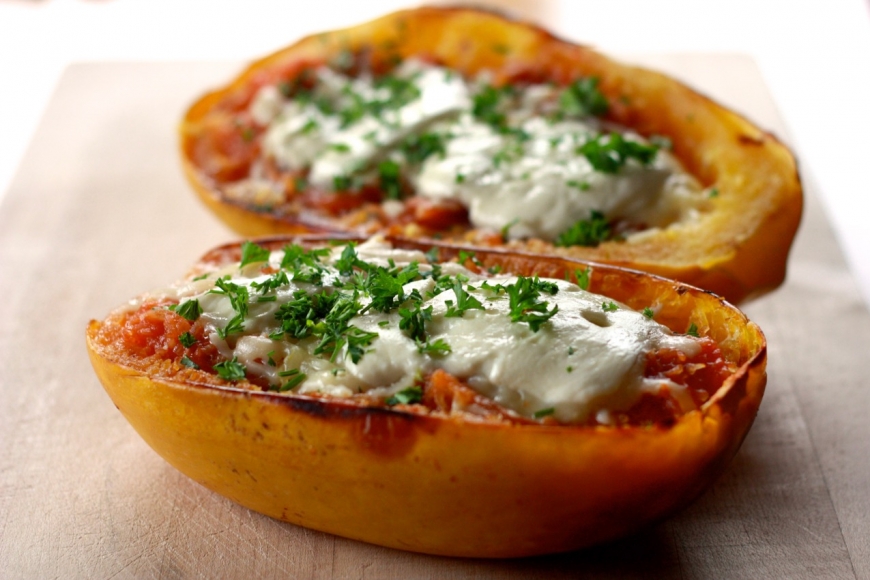 Some of my favorite recipes are modern twists on old classics. Let's be honest, you can't really beat lasagna. In this version, we replace the noodles with spaghetti squash, because come on, we're really here for the cheese and tomato sauce anyway. We amp up the vegetable content with the squash and some extra herbs and boost the protein with crumbled tofu to create a one dish wonder.
I love to serve this in the shell because it is such a fun serving dish, but you can definitely bake the whole thing in a lasagna pan instead.
Lasagna Stuffed Spaghetti Squash
Serves 6
Ingredients
1 large spaghetti squash (3-4 lbs.)
3 tbs. extra virgin olive oil
1 large onion, chopped
2 garlic cloves, minced
2 cups favorite spaghetti sauce
1 cup basil leaves, minced
1/2 lb ricotta
1/2 lb. extra firm tofu
1 large egg (optional)
1 cup whole milk mozzarella cheese, divided
1/2 cup extra sharp cheddar cheese
Extra basil for garnish
Directions
Preheat oven to 400 degrees. Split spaghetti squash in half lengthwise and remove seeds. Rub inside with olive oil and place on a parchment paper lined baking sheet, cut side down. Roast for 20 minutes, rotate, and continue to roast for another 20 minutes. To check whether it is done, carefully flip over squash and run a fork down the inside to see if the flesh comes up easily and resembles spaghetti. It should be very easy to fluff up, soft and edges beginning to brown. If it isn't quite there yet, continue to cook for 10 minutes at a time. Remove from oven, flip over and let cool.
Meanwhile, add olive oil to a pot over low-medium heat and sauté onions until translucent. Add garlic and continue to cook for one minute. Add spaghetti sauce and season to taste. Fold in minced basil.
In a food processor, pulse tofu until it is a texture that resembles ricotta.
In to a large bowl, remove spaghetti squash threads from shell. Squeeze strands to release their water and drain water from bowl.
Mix in tomato sauce, ricotta, tofu, beaten egg, and half the mozzarella. Mix thoroughly and add back into hollow shells. Top with remaining cheeses.
Bake at 375 degrees for 20-30 minutes, until cheese is bubbling and beginning to brown. Remove and let cool for a few minutes before serving.