Green Spinach Shakshuka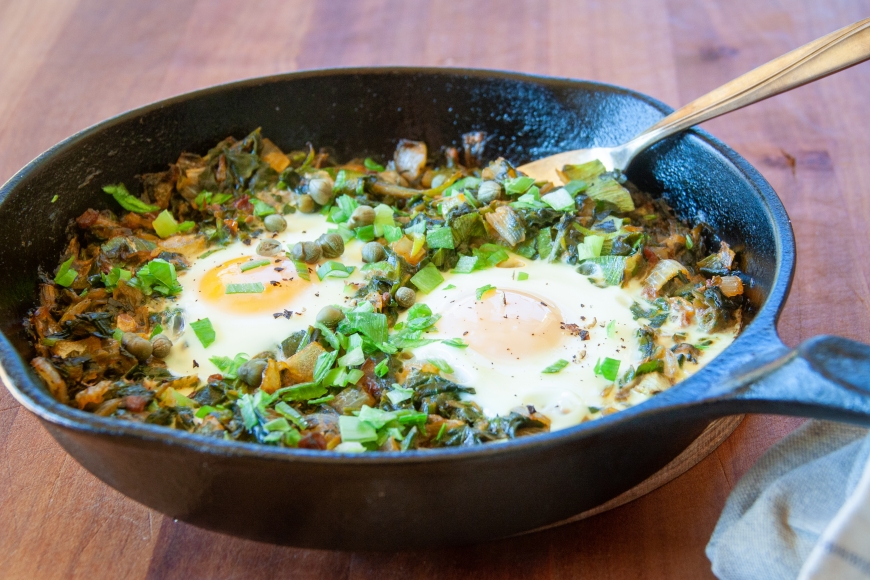 I'm a big proponent of a solid breakfast around here. Preferably hot, including some protein, hearty greens, and good fats. We want to set ourselves up for success, and starting the day with intention and health promoting foods makes it easier to keep the momentum going. This is one of my favorites as it checks most of my boxes.
The ingredient list can conform to what you have in stock, and the possibilities are endless once you master the technique.
Green Spinach Shakshuka
Ingredients
Serves 1-2
1 tbs. olive oil
1 small yellow onion, finely chopped
1 tbs. tomato paste
2 cups frozen spinach
1 tbs. basil pesto
a shake of red pepper flakes, optional
salt and pepper to taste
1 scallion, sliced thinly

2 large eggs
Optional toppings: Additional herbs such as minced scallions, basil or rosemary, a few capers, strong cheese such as feta or chevre
Directions
Preheat oven to 375 degrees
Heat a small oven-proof pan (preferably cast iron) over low-medium heat. Once hot, add olive oil, swirl, and add chopped onion. Cook for 5-10 minutes or until onions are fully translucent, stirring as needed. Add tomato paste and frozen spinach. Stirring occasionally, let mixture cook until spinach is hot. Add pesto, red pepper flakes, and salt and pepper to taste. Cook for one more minute. Taste and adjust seasonings as needed. Stir in scallions. Turn off heat and make two wells in the mixture to crack your eggs in to. Crack eggs carefully, and sprinkle a bit of water over each egg white, about 1 teaspoon per egg. Transfer pan in to preheated oven and cook for 8-12 minutes, or until eggs are set. You want the egg whites to be opaque and for the yolk to have risen but remain soft.
Pull pan from oven and top with desired toppings before serving.