Pad Thai with Shredded Carrot, Bean Sprouts and Sesame Eggs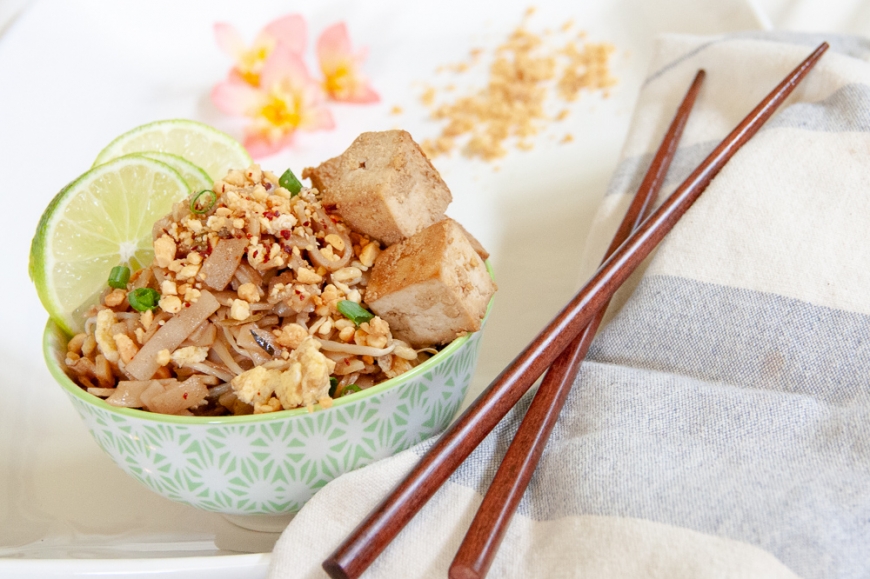 Seriously, is there anything better than snuggling up to a big bowl of Pad Thai? It somehow manages to be a comfort food while still boasting exotic ingredients and abundant flavor. It is sometimes hard to find a version that does not contain fish sauce, so this is the recipe I have created to serve my Prepared Meal Service.
Pad Thai with Shredded Carrot, Bean Sprouts and Sesame Eggs
Serves 6
Ingredients
12 oz. Dried Flat Rice Noodles (Banh Pho)
1 tbs. soft tamarind
6 tbs. tamari soy sauce
1/2 cup boiling water
6 tbs. brown sugar
1 tbs. sriracha hot sauce (optional)
2 tbs. toasted sesame oil
6 eggs, beaten
1 tbs. white wine
2 tbs. water
1/4 tsp. salt
1 tbs. neutral oil
1 small bunch of scallions, sliced
4 cloves garlic, minced
7oz package of mung bean sprouts
2 carrots, shredded
Salt and black pepper to taste
1/2 cup cilantro, chopped
6 tbs. roasted peanuts, chopped
Directions
Set noodles to soak in hot water, completely submerged, until softened, about 25 minutes.
To prepare sauce, combine tamarind through hot sauce in a blender and blend until smooth.
Heat a small large pan over low-medium heat and add toasted sesame oil. Beat eggs in a bowl with white wine, water and salt. When oil is hot, pour in eggs. Lightly scramble, not stirring too often, until eggs are set. Break into pieces using a spatula if necessary. Remove to a bowl and set aside.
Slice scallions thinly, separating the whites and greens. Wipe skillet clean. Add canola oil and stir fry white parts of the scallions until beginning to brown. Add garlic, bean sprouts and shredded carrots and stir-fry, stirring often, until the bean sprouts have begun to break down and carrots are cooked. Drain rice noodles and add to the pan along with the sauce from the blender. Continue to cook until sauce has been absorbed by the noodles and both noodles and bean sprouts are very soft. Fold in sesame eggs. Taste, and adjust with salt and black pepper to taste.
Serve topped with sliced scallion greens, cilantro and crushed peanuts.