Mongolian Tempeh and Broccoli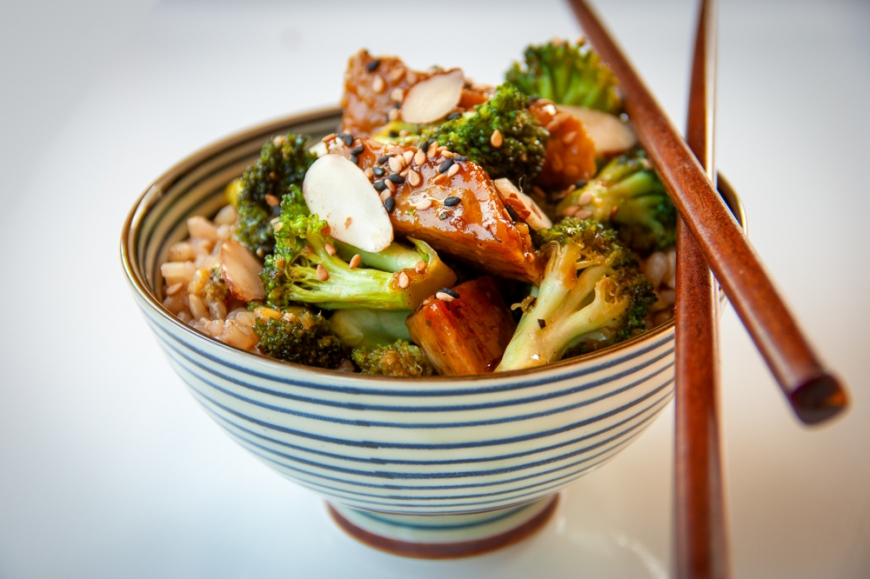 I've been making this recipe for a bit now, mostly as a quick weeknight meal for my family, but occasionally for the Prepared Meal Service. I love dinner in a bowl and this one ticks all of the boxes with a whole grain, vegetable and protein coated in a luscious exotic sauce. Simple but interesting.
People often ask me how I come up with my recipes and the answer is that they almost always start with someone else's. As I'm cooking, I'm using the recipe as a guide and always putting my own spins on it, swapping out ingredients and shaping it to fit a whole foods pantry. If I like it, I might repeat it a few times over the next few months, make notes on what I like best, and end up with a recipe that was inspired by another, but then feels like my own.
This one was inspired by Yup, It's Vegan, but has gone through some fairly significant health upgrades and tweaks, including lowering the sugar and sodium and replacing the seitan for tempeh. We still enjoy the seitan version every once in awhile for a treat in my house (you can just substitute seitan for the tempeh and maybe toss it with a touch more arrowroot), but in general, seitan is fairly hard to digest even for those that are not sensitive to gluten. Tempeh on the other hand is made of whole soybeans that have been fermented to neutralize the phytic acid, making it rich in protein, nutrient dense and easier to digest and assimilate.
But again, it is all about moderation and diversity. It is important to not rely too much on any one protein in our diet and I certainly try not to label any as "bad" or "good", and instead simply focus on whole foods.
I often serve it with basmati rice which cooks up quickly and is pretty neutral. But for a truly whole grain, you can't beat long grain brown rice. Don't be intimidated by the list of ingredients- I promise it comes together in 30 minutes or less once you have the hang of it.
Mongolian Tempeh and Broccoli
Inspired by Yup, It's Vegan
Serves 2-4
Ingredients
3/4 cup basmati rice
1 1/2 cups vegetable stock or water
5 tbs. grapeseed or canola oil, divided
8 oz. tempeh
1 tsp. arrowroot powder
2 heads broccoli, cut in to florets
3 cloves garlic, minced
2 tbs. ginger, minced or grated with a microplane
1/2 tsp. Chinese five spice powder
pinch of red pepper flakes, optional
3 tbs. tamari
5 tbs. water
3 tbs. maple syrup
2 tsp. arrowroot powder mixed with 2 tbs. water
4 tbs. toasted sesame seeds and/or sliced almonds
Directions
Simmer rice and stock/water in a small pot, covered, over very low heat until the liquid has been absorbed and rice is soft, about 10-15 minutes.
Heat 2 tbs. of oil in a large skillet over medium heat. Chop tempeh in to 1-inch strips and then on the diagonal into diamonds. Toss in a large bowl with 1 tsp. arrowroot powder until coated. Fry in hot oil for 5-10 minutes, stirring occasional, until golden on most sides. Remove from pan, add another 2 tbs. oil, and stir-fry broccoli until bright green, and tender. Again, remove from pan.
Add remaining tablespoon of oil, quickly stir fry garlic and ginger for 30 seconds. Add Chinese five spice powder and red pepper flakes if using, toast for 15 seconds, and add tamari, water, and syrup. Bring to a low simmer. Add arrowroot mixed with water and cook until sauce has thickened. Add tempeh and broccoli back to the pan, stir, and continue to cook until broccoli is cooked to your preference. Serve topped with toasted sesame seeds and/or sliced almonds.