Baked Sweet Potato with Crispy Chickpeas and Spinach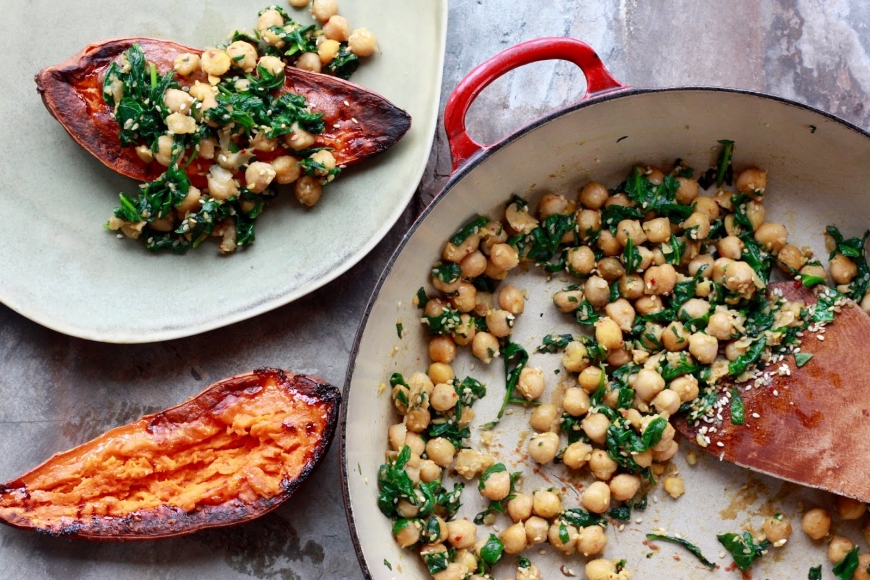 This is a simple mid week dinner, for those nights when you want to nourish your body without getting too fancy. Well, maybe just a little fancy.

The sweet potatoes take some time in the oven to roast until sticky sweet, but it is well worth it in the end. You just can't get those results with any other method.

The chickpeas are simple yet bursting with flavor and texture, and help round out the meal with protein and an extra dose of fiber. Don't skip the basil, it adds a freshness and flavor punch that you'd sorely miss. Likewise, don't skimp on the olive oil and use the most flavorful one you have- it is integral for the crispy coat on the chickpeas, and adds a bright note when paired with the fresh basil.
Baked Sweet Potato with Crispy Chickpeas and Spinach
Serves 2

Ingredients
1 large sweet potato (1 lb.)
1 tbs. oil
1 small red onion, minced
15.5 oz. can of chickpeas, drained and rinsed
2 tbs. extra-virgin olive oil
4 cups baby spinach, ¼ lb.
½ cup basil, finely minced
1 tbs. sesame seeds
¼ tsp. kosher salt
Directions

Preheat oven to 400 degrees.

Cut sweet potatoes in half lengthwise and drizzle with oil. Place cut side down on a parchment paper lined baking sheet. Roast for 40 minutes, rotating after 20, or until very tender when pierced with a fork, and golden brown on the bottom. Remove from oven and set aside.

Meanwhile. place olive oil, red onions and chickpeas in a large skillet over medium heat. Cook over medium heat, stirring occasionally, until chickpeas are golden and beginning to split, about 10 minutes. Add spinach, sesame seeds and salt continue to cook for 5 minutes, covered, until spinach is completely wilted. Stir in basil. Serve crispy chickpeas over sweet potato halves, seasoning with additional salt and pepper to taste.