Shitake and Soba Noodle Miso Soup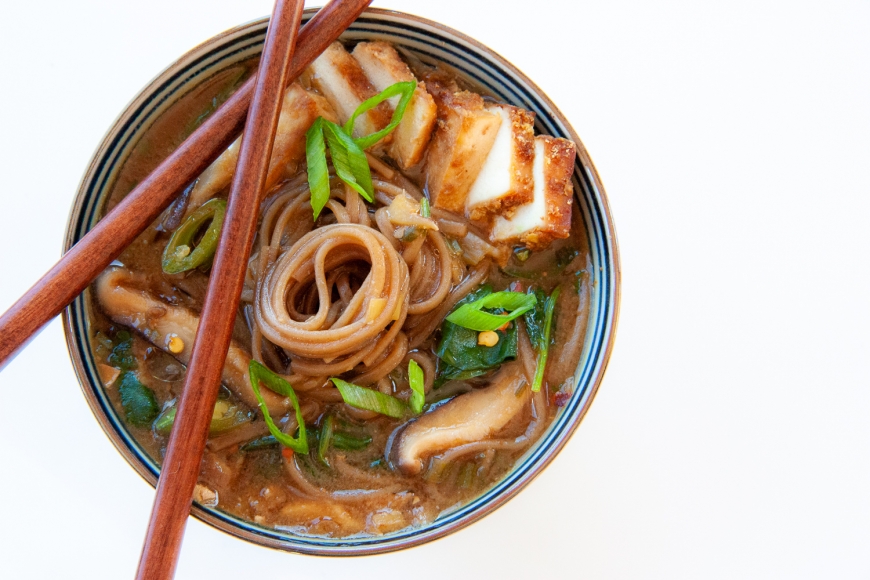 Has this been a tough winter for anyone else? It seems as though everyone I have talked to has been battling illness all winter long. Exposure is pretty hard to avoid, but we can empower ourselves by boosting our own immune systems at every meal.
This soup utilizes shiitakes, a medicinal mushroom and powerful immune activator, as well as garlic and ginger, two more excellent boosters. It is finished with live miso, which contains healthy bacteria to feed our gut so that it can ward off any bad bacteria that make their way in. The trick is to add the miso after the soup is off the heat, as simmering it will render it inactive.
Finish that with some green vegetables and fresh herbs and you are on your way to wellness.
Shitake and Soba Noodle Miso Soup
Serves 2
Ingredients
1 tablespoon grapeseed oil
4 oz Shitake Mushrooms, stems removed and sliced
3 garlic cloves, minced
3-inch ginger, minced
4 scallions, sliced
4 cups water
1 tablespoon tamari, plus more to taste
1/2 teaspoon toasted sesame oil, plus more for drizzling
1 tbs. Worcestershire sauve
4 ounces soba noodles
a handful of snap peas, sliced on the diagonal
2 cups baby spinach
3 tablespoons white miso paste
1 tablespoon rice vinegar
1/4 teaspoon red pepper flakes
1/4 cup cilantro, chopped
Protein of choice, such as ginger garlic tofu, sliced
Scallions, sliced
Directions
Heat oil in a medium pot over low-medium heat. Add sliced shiitake caps, sautéing for about 5 minutes. Add garlic, ginger and scallions, sautéing for an additional minute, stirring often. Add water, tamari, sesame oil and Worcestershire sauce. Cover, increase heat and bring to a simmer. Add soba noodles and cook for 4 minutes. Test noodles for al dante, cooking for additional time as needed. Add snap peas and spinach and continue to cook for one minute, or until spinach is well wilted. Turn off the heat. In a small bowl combine miso paste with an additional few tablespoons of water and stir to dissolve. Add miso, rice vinegar, red pepper flakes and cilantro. Spoon into bowls and drizzle with sesame oil and top with scallions, as well as protein of choice, if using.