Dark Chocolate Date Caramel Hearts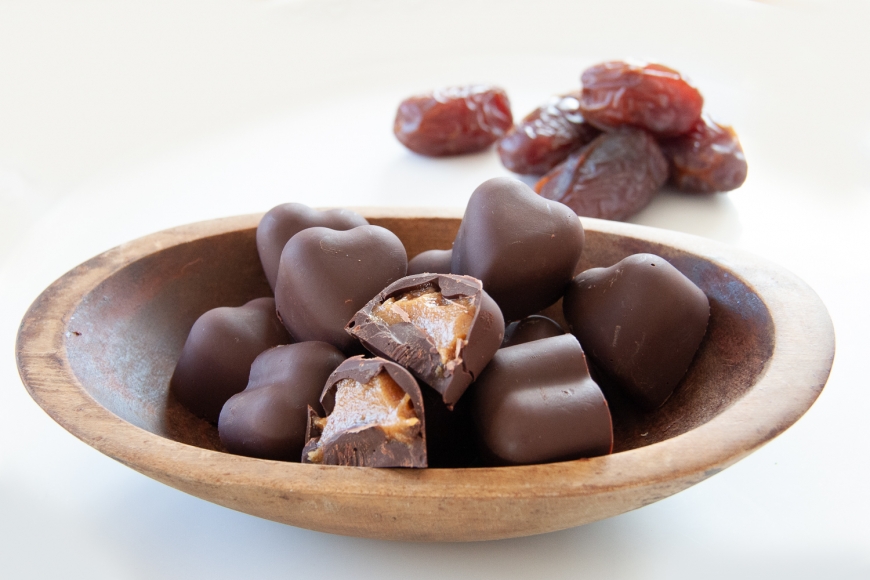 What a perfect little DIY Valentine's Day treat. Simple, cute and tasty, it checks all the boxes.
The "caramel" is simply pureed dates with water and sea salt. For best results, you'll want to search out some soft medjool dates. If your dates are a little less fresh and not quite as soft, you'll want to soak them in water before blending.
Ok, so I will be the first to admit I am not a chocolatier. I have tempered chocolate in the past, but in most instances, I am much more into convenience than perfection and simply melt my chocolate in a double boiler without all the pomp and circumstance. But this does create some limitations- if your finished creation then sits out at room temperature for more than a day or two, you will notice that it starts to look a little less pretty, which can affect the texture of the chocolate as well.
So the trick is you'll have to store them in the fridge or freezer to keep them looking pretty.
Dark Chocolate Date Caramel Hearts
Makes 15 hearts
Ingredients
1 1/4 cup dark chocolate chips
1 cup of large medjool dates, pitted (took about 8 large dates)
1/8 tsp. fine sea salt
1/4 cup hot water
Directions
Set chocolate to melt in a double boiler (or non reactive bowl over a pot of simmering water), until melted smooth.
Remove pits from dates. Place dates and sea salt in a food processor and process, streaming in hot water as needed to get a smooth caramel, without getting too liquid-y. Use more of less water as needed. It'll take a few minutes to get it super smooth and you'll have to stop and scrape the sides down several times.
Using silicone heart molds, spoon chocolate in to each mold and use a butter knife to coat the bottom and all sides. Set in freezer for 5 minutes. Remove and scoop a small amount of caramel in to each center. Top with additional melted chocolate until you reach the top of the mold. Set in freezer for another 15 minutes or until completely solid. Remove and pop out hearts.
Enjoy within the day, or store in fridge until serving.