BBQ Cauliflower and Lentil Sloppy Joes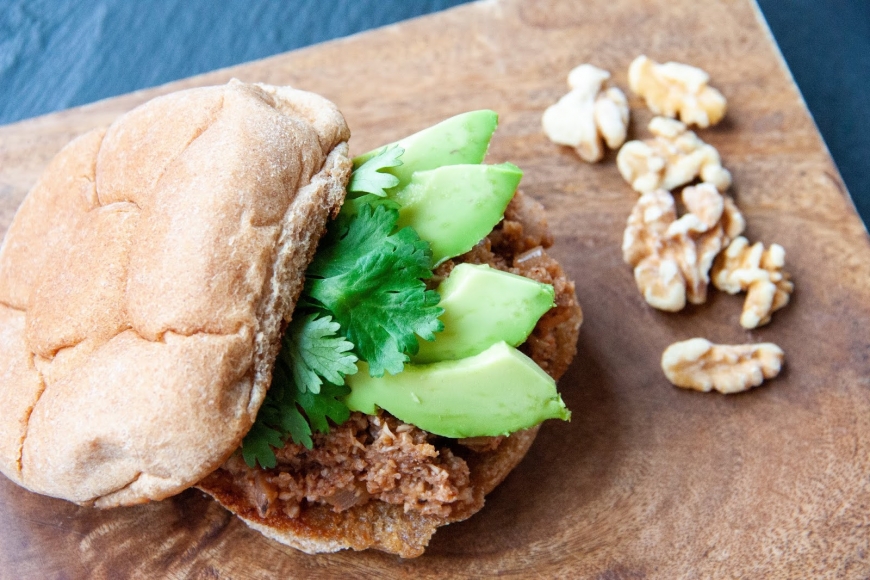 I got a little overzealous with my cauliflower order from my local farm the other day, and have been getting creative with them in the kitchen since. This is one of my favorites.
If the title Sloppy Joes conjures up images of elementary school lunch lines, I think you will be pleasantly surprised to sit down to this instead. The lentils give it a certain chewiness, while the cauliflower absorbs the flavor and boosts the vegetable content.
For a lighter version, skip the bun and create a Sloppy Joe Bowl instead - I think you'll find it is plenty filling, especially if topped with coleslaw and avocado.
BBQ Cauliflower and Lentil Sloppy Joes
Serves 4
Ingredients
1 tbs. neutral oil
1 medium yellow onion
1 large garlic clove
1/2 cup green lentils
1/2 medium head of cauliflower, broken in to florets, about 2 cups
1/4 cup raw walnuts
1/2 cup barbecue sauce
1 tsp. chili powder
1/2 tsp. salt
4 buns
1 avocado
a few cilantro stems (optional)
Directions
Bring 3 cups of water to a boil in a small saucepan. Add lentils, bring to a low boil and cook for 18 minutes. Drain and rinse with cold water.

The easiest way to prep the ingredients is to pull out your food processor. Throw the garlic clove in and mince. Add cauliflower and walnuts and process until broken up in to small pieces, similar to the texture of ground beef- don't over process, you want some structure to remain.
Meanwhile, mince onion and saute over medium heat in a large pan with oil of choice. Once translucent, add cauliflower mixture from food processor, drained lentils, bbq sauce, chili powder and salt. Continue to cook for 20-30 minutes, stirring often, until pretty dry and beginning to brown.
To serve, toast buns in a lightly oiled pan, cut side down, with a smaller pan on top to weigh it down. Spoon sloppy joe mixture on top, followed by avocado slices, cilantro stems and top bun.