Quinoa Fried "Rice"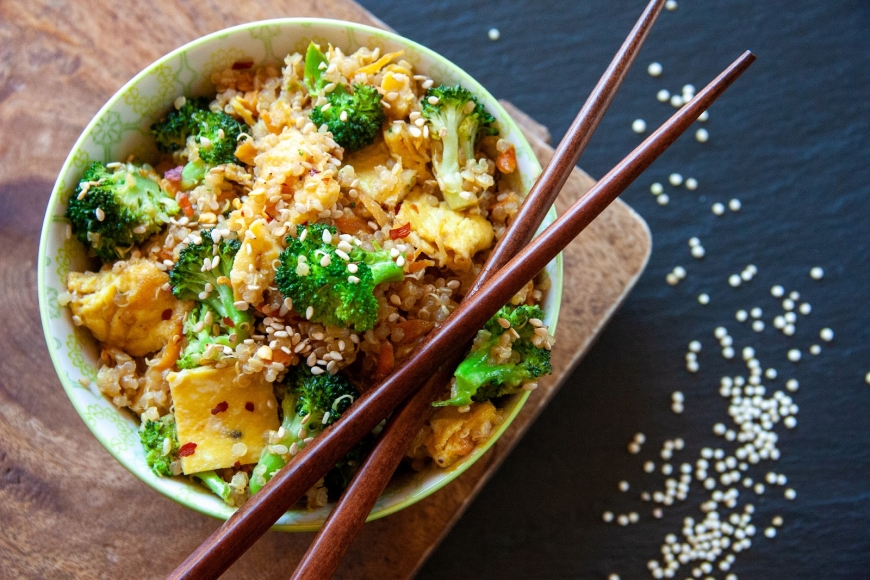 I make this dish so often I thought I'd share, just in case you'd like to add it to your weeknight repertoire. It comes together quickly, especially if you prep the sesame ginger sauce in advance. I like to make a double batch of the sauce to store in the fridge, as it keeps for several weeks.

It's the perfect dish for someone who is quinoa-curious, but maybe a little intimidated as well. See? There's nothing to be scared of.

You can vary the vegetables- I'll often use green beans in place of broccoli or throw in some chopped garlic scapes when they are in season. You can finish it with your favorite hot sauce, chopped cilantro or salty peanuts for a crunch.
You're now two pans and 30 minutes away from a dinner chocked full of high quality protein, fiber and stir-fried veggies.

Quinoa Fried "Rice"
Serves 2 as a main dish

Ingredients
3 tbs. tahini
3 tbs. tamari soy sauce
2 tbs. honey or syrup
1 tbs. toasted sesame oil
2 garlic cloves
1-inch ginger root
½ cup quinoa
1 cup water or stock
2 tbs. oil of choice, divided
Small head of broccoli, about 1 cup chopped
1 small carrot, grated
2 eggs
2 tbs. sesame seeds
Chili flakes, if desired

Directions
Place quinoa and water/stock in a small pot. Bring to a boil and turn down to a simmer. Cook for 15-20 minutes, covered, or until all liquid is absorbed. Remove lid, fluff and set aside.

To make the sesame ginger sauce, combine tahini through ginger in a blender and process until smooth. Set aside.
Beat eggs in a small bowl. Season with a dash of salt and pepper.

Heat 1 tbs. oil over medium heat in a large pan. Add eggs and scramble quickly. Remove to a small bowl and break up into small pieces. Wipe pan clean. Add remaining tbs. of oil to the pan along with carrots and broccoli and stir-fry until bright and tender, about 5 minutes. Add cooked quinoa, scrambled eggs, 4-6 tbs. sesame ginger sauce and sesame seeds and continue to stir-fry for 3 minutes. Taste and adjust seasoning with salt and chili flakes if desired.