Salted Caramel Cashew Ice Cream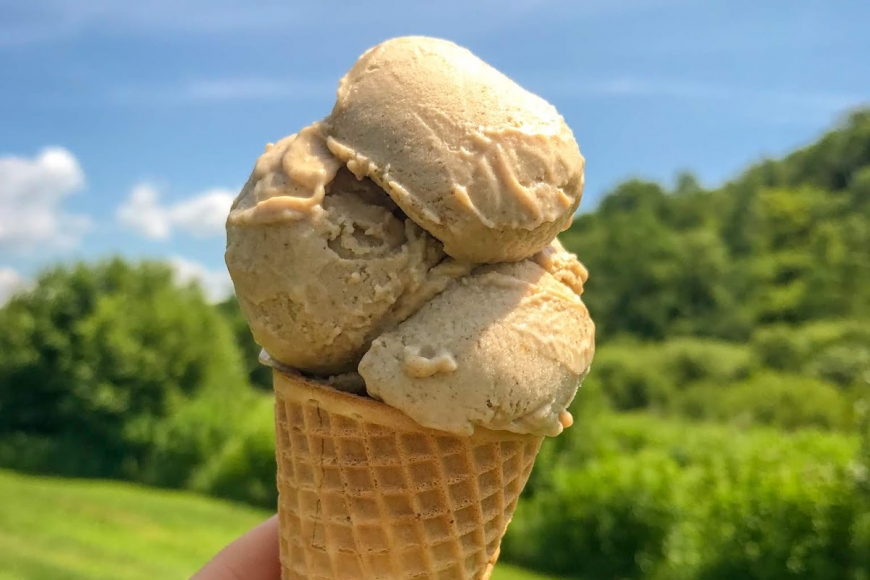 With summer heat waves in full force across the country, ice cream has been on my mind. But let's face it, probably not the best treat to be indulging in every day, which is roughly how often we seemed to be consuming it. So I decided to go searching for a healthier version that I could feel good about serving my family. A simple search found that I was not alone.
The key to these cashew based ice creams is the dates. Not only do they deliver a caramely sweetness, but they keep the ice cream silky in texture, as opposed to solely sweetening with syrup or honey, which yields an icier result.
The ingredient list is simple, there is no churning or ice cream machine involved, and you'll have healthy ice cream to enjoy directly out of the freezer. If you do not have a high powered blender, such as a Vitamix and Blendtec, I would recommend soaking the cashews and pitted dates for several hours in the milk, to soften them up enough to blend smoothly.
The cinnamon packs a punch- you can take it down a notch by halving the amount if you prefer. The flaky sea salt is also optional. I love it, but my three year old is less sure, so know your audience.
Finally, this is not the kind of ice cream you want sitting around for too long in your freezer, I find that after a few days it starts to loose some of it's silky texture. Best made in small batches and enjoyed often.
Salted Caramel Cashew Ice Cream
Inspired by Blissful Basil
Ingredients
1 1/4 cups unsweetened plant-based milk
1 cup pitted and packed soft, sticky medjool dates (about 12 dates)
3/4 cup raw cashews (heaping)
2 tbs. maple syrup
1/2 tsp. cinnamon
1/2 tsp. fine-grain sea salt
1/8 tsp. flaky salt for top
Directions
Place all ingredients except for the flaky salt in a high-speed blender and process until very smooth, scraping down sides as needed. Pour into a parchment paper lined dish and sprinkle with flaky salt. Freeze until hard, at least 6 hours. In the first few days, this scoops beautifully right out of the freezer. If it lasts more than a few days, let sit for a few minutes before serving.