Hearty Miso Stew with Potato, Leeks and Tofu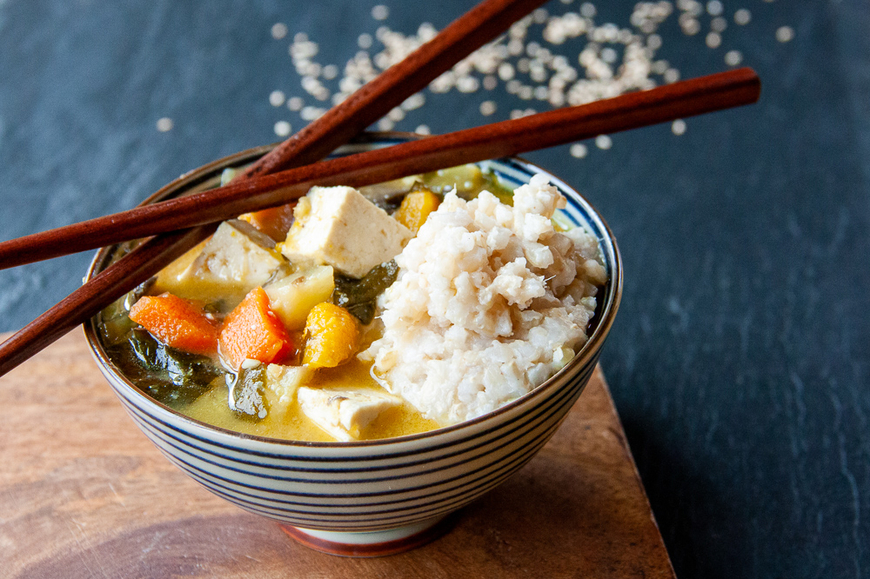 I don't know how you are faring, but my family has had a rough season of illness. The calendar tells me it is mid-April so I am hoping it lets up soon, but in the meantime I am craving nourishment and defense in the form off immune-boosting meals.
This stew boasts hearty root vegetables rich with antioxidants and trace minerals. The broth is spiked with probiotic miso, which helps the gut remain inhospitable to bacteria and viruses. The wakame seaweed offers up some much needed iodine, calcium and iron to round it all out. You could even replace some or all of the criminis with shiitake mushrooms if you wanted to get super serious.
It's not the quickest stew, but it is well worth the trouble. You might want to make a big batch and enjoy it all week long. To preserve the live probiotics in the miso, avoid letting the stew come to a simmer, you might even want to leave it out of the big pot and instead add it to taste after heating each portion throughout the week.

Hearty Miso Stew with Potato, Leeks and Tofu
Serves 6
Ingredients
1 small onion, chopped
1 leek, sliced
1 tbs. unrefined sesame oil
2 medium carrots, in ½ inch half moons
2 celery ribs, sliced on the diagonal
6-inch piece of burdock, in half moons
2 cups criminis, quartered
1 medium garnet yam, chopped
2 red potatos, chopped
3 large cloves garlic, minced
2 tbs. grated ginger
2 tbs. dried wakame, soaked and chopped
1 lb. extra-firm tofu, in small cubes
¼ tsp. sea salt
¼ cup brown rice flour
3 tbs. grapeseed oil
1 tbs. toasted sesame oil
2 ½ cups vegetable stock
tamari to taste
5 tbs. miso, dissolved in ½ cup stock
hot sauce to taste
2 cups cooked brown rice
Directions
Heat sesame oil over medium heat in a large stock pot. Add onions and leek and sauté for 10 minutes, until beginning to brown. Add the remaining vegetables along with the garlic, ginger, wakame, tofu and salt, turn down the heat to low and cook for 10-20 minutes, until root vegetables are soft, adding stock as needed to keep from burning and stirring occasionally.
In the meantime, toast brown rice flour in a large cast-iron skillet over medium heat until aromatic, stirring frequently. Add the sesame oils and stir to combine. Gradually pour in the stock, stirring to combine between pours. Cook for 10 minutes or until thickened, stirring frequently to prevent scorching. Remove from heat.
Pour thickened stock into vegetable mixture and stir gently to combine. Return to a simmer. When you have reached desired heat, add diluted miso and season with hot sauce and tamari to taste. Serve over brown rice.
* If reheating, keep diluted miso mixture separate and add to each bowl just before serving, to preserve it's probiotic qualities.