Sweet Potato Bisque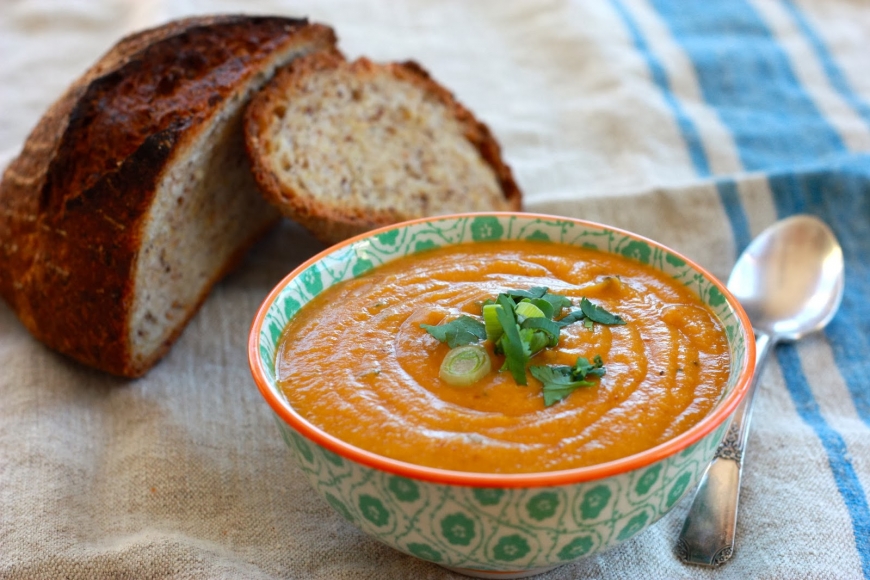 I've been working on a project lately that requires developing recipes that are shelf stable. This has proven to be quite a challenging project for a natural chef, who bases most recipes on the fresh and the raw.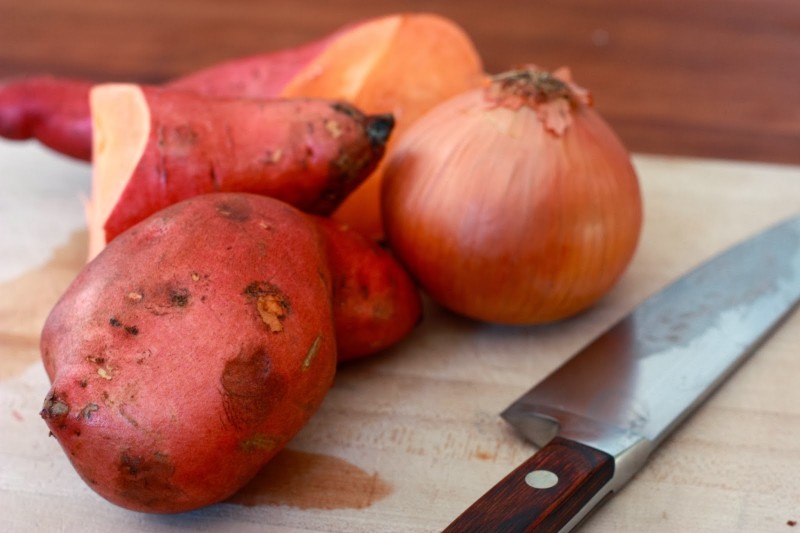 The good news is that it inspired this cashew cream powder, which I have incorporated into a sweet potato version of the potato chowder I was originally developing.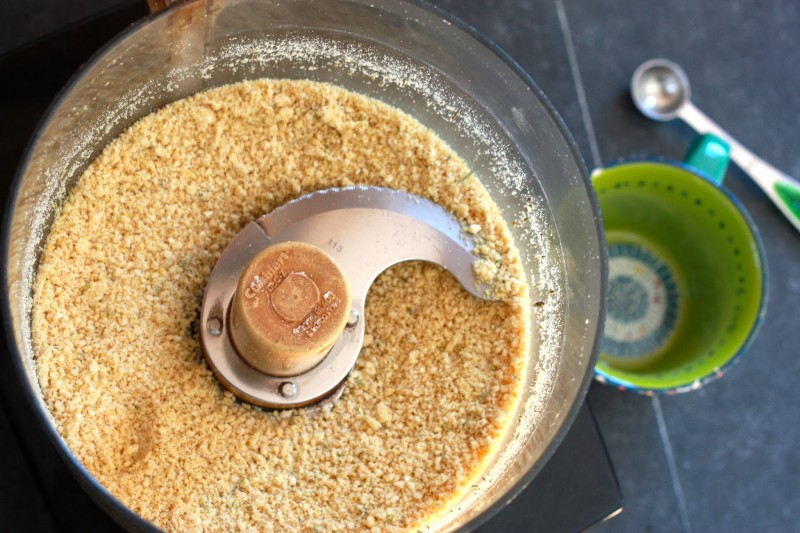 The cashew powder that you create in the first step of this recipe can be kept in an airtight container, preferably somewhere cool and dark, for a few weeks. It can then be mixed with 1 1/2 cups of water and brought to a simmer, to thicken into a luscious cashew cream. At this point, you have a versatile sauce for a variety of dishes - as an alfredo sauce mixed with whole wheat pasta, over steamed broccoli, or as the "cream" in a vegan chowder, such as we find here.
The beauty of using it in a soup is that you can cut out the step of thickening it in simmering water, and simply add the cashew powder to the soup in the last few minutes of cooking. You'll notice a quick thickening effect, and after a few minutes with the immersion blender, you have a beautiful chowder or bisque.
Wow, that got a bit detailed- hope I didn't lose any of you yet.
In short: this cashew powder is fun to play with and can easily be made ahead and transported to be used over camp stoves in the woods, while traveling to remote destinations, or to throw together a quick week night meal.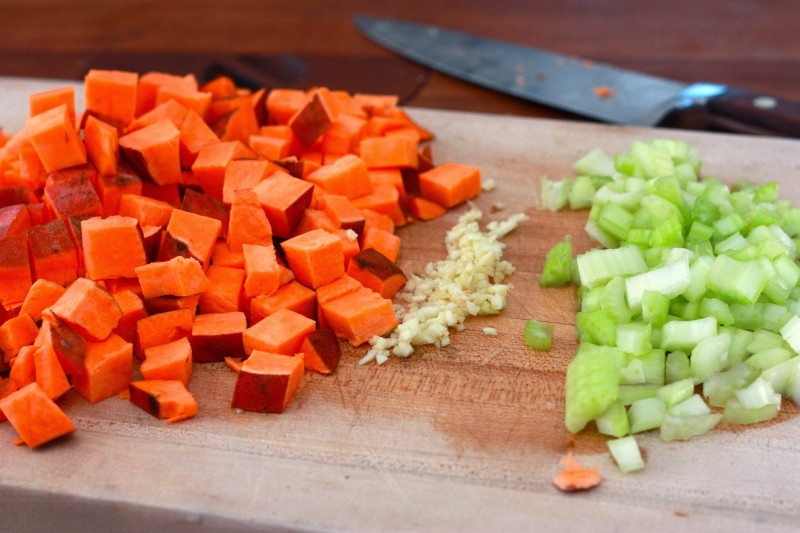 Like most soups, this one requires a decent amount of chopping, resulting in some valuable ends and pieces. DON'T YOU DARE THROW THIS IN THE COMPOST. This is the start of your next soup- save them for your next batch of vegetable stock.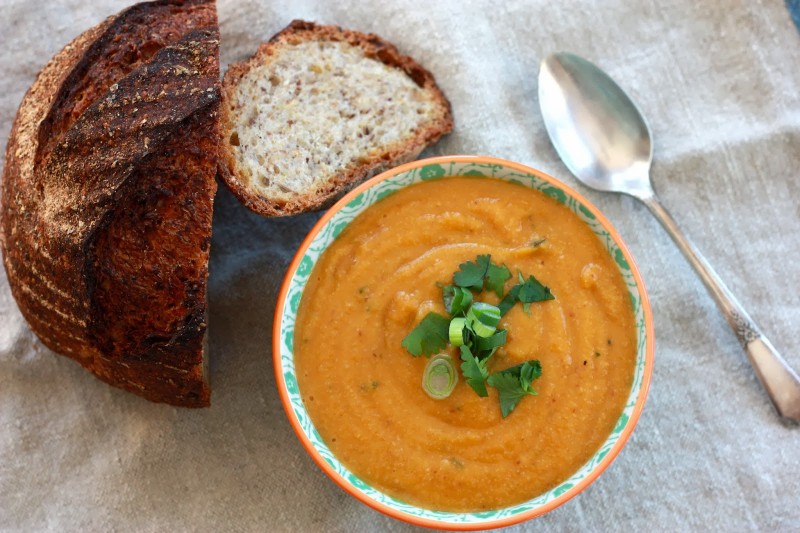 Vegan Sweet Potato Bisque
Serves 4-6
Ingredients
1 cup ground raw cashews, room temperature
1 tbs. nutritional yeast
1/2 tsp. garlic granules
1 ½ tsp. salt
½ tsp. rosemary
1 tsp. coconut oil
1 small onion, minced
2 celery ribs, diced
2 garlic cloves, minced
2 large yams, diced (5 cups)
4 cups vegetable stock
1 tbs. cooking sherry
¼ tsp. freshly ground pepper
Salt to taste
Optional additions: a dash of red pepper flakes, a handful of fresh herbs- basil, sage, scallions or parsley
Directions
In a food processor, pulse the first 5 ingredients, cashews through rosemary, until you reach a granular consistency, similar to that of sand. The more powdered the better, but don't go too far- it will try to turn into cashew butter. Set aside.
Heat the coconut oil in a medium pot over low-medium heat. Add onions and cook until translucent. Add celery and continue to cook for 5 minutes, until softened. Add garlic, cook for 1 minute, then add yam and vegetable stock. Bring up to a boil and down to a simmer. Simmer for 10 minutes, or until yams are very soft. Uncover, add cashew powder and continue to cook for 5 minutes.
Turn off heat, add cooking sherry and ground pepper. With an immersion blender, puree until very smooth. Taste, and adjust with salt. Add additional spices and herbs if using, and pulse to combine.