Oven-Fried Turmeric Tofu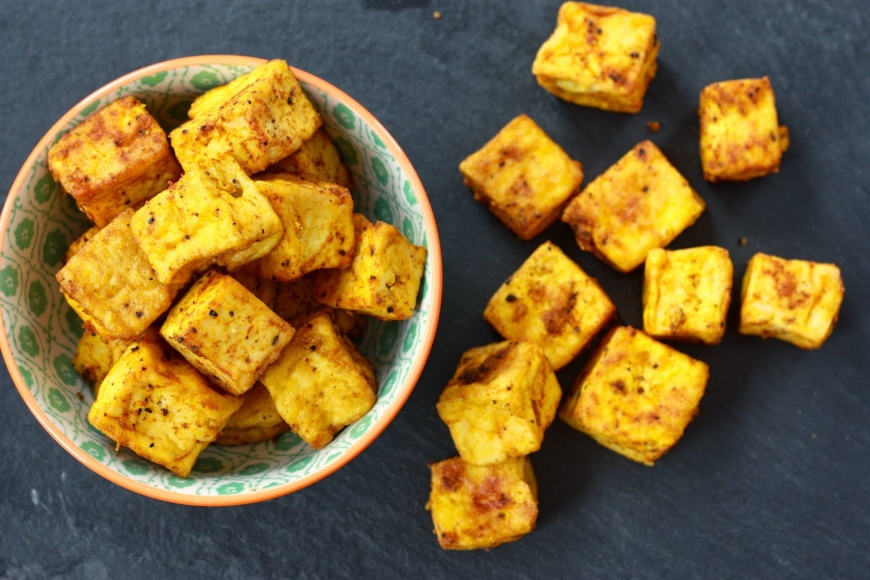 I have been on a major turmeric kick these days. Mostly because it gives me a mental-boost of immune confidence every time I dash the powdered gold, but also because of the lovely flavor it imparts. It is what I imagine the streets of India to smell like constantly, although I sadly have yet to visit. Earthy, pungent, and slightly bitter, turmeric seems to add a dash of life to each dish it graces.
Just because I have to (no i really, compulsively, I do) I will share some of the amazing nutritional benefits this wonder spice offers. Long revered in Indian and Chinese medicine, turmeric root is a powerful anti-inflammatory, rich in the compound carcumin. As a result, turmeric has been found to be as successful in fighting inflammation as potent drugs such as hydrocortisone and Motrin, without the potential toxic side-effects.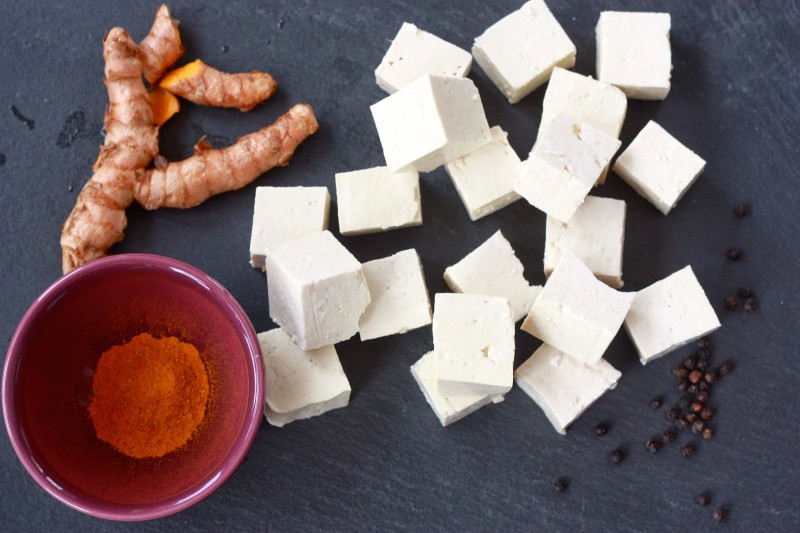 Remember that pattern we have noticed before, where deep, rich colors often indicate the presence of strong antioxidants in our food? Think beets, tomatoes, and spirulina. Turmeric might be the embodiment of that rule- its saturated golden hue is indicative of extremely high antioxidant action, which has the ability to neutralize free radicals in our bodies, protecting against a wide range of cancers.
Found to boost cardiovascular health, lower cholesterol levels, protect against alzheimers, the list goes on and on. If you are interested, hop on over here for some more details.
So hopefully by now you are excited to try out this magical root, and work it into your daily diet as well.

What have I been doing with it, you ask? I seem to be obsessively making the "Love your liver" tea- morning and night, I swear it has saved me from the pulls of the winter flu more than once this season.
It also tends to make it's way into my breakfast skillet on an almost daily basis- a quick stir-fry of onion, garlic, spinach and red pepper seasoned with a dash of nutritional yeast, turmeric and tamari and finished off with a cracked egg fried in the middle. Possibly even a swirl of my favorite hot sauce, a few cubes of avocado and some cilantro leaves if I am feeling fancy. Highly recommended.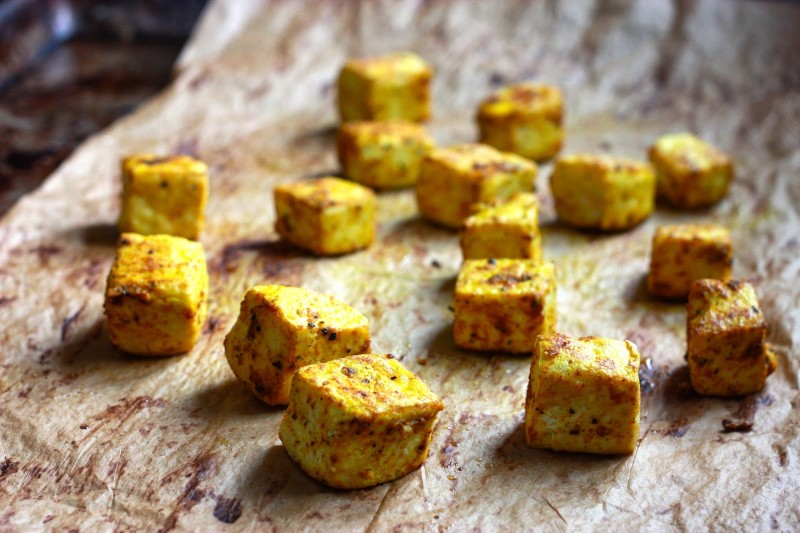 But what I want to share with you today is a turmeric version of my Oven-Fried Tofu- a puffy, chewy rendition of the type of tofu you might find at your local Thai restaurant, with significantly less oil involved. This recipe is super flexible and can be flavored in many different directions- just keep the amount of oil, salt and pepper constant. I like it best served with asian inspired dishes, but it is great to have on hand for snacking as well.
Other seasonings I have tried include:
Garlic Ginger: replace the turmeric with 1/4 tsp. granulated garlic and 1/4 tsp. ginger powder, and sprinkle with a light dash of tamari.
Salt and Pepper: Keep it simple- take out the turmeric and amp up the pepper with a few extra cranks of freshly ground peppercorn and you are in business. I love this one paired with "non-asian" sauces, such as honey mustard or garden dill.
Curry: Add an extra 1/2 tsp of your favorite curry powder- one with a little heat is a nice touch
Chipotle: For a smoky version, replace the turmeric with cumin and add an extra 1/4 tsp of chipotle powder.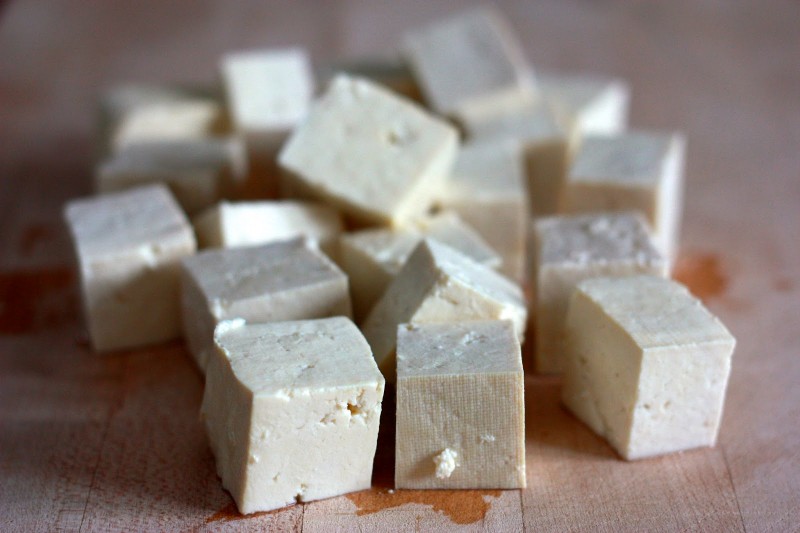 Oven-Fried Turmeric Tofu
Serves 4-6
Ingredients
1 14 oz. pkg. extra-firm tofu (this is my favorite, for my VT peeps)
1/2 tsp. turmeric powder
1/2 tsp sea salt
1/4 tsp freshly ground black pepper
1 tbs. grapeseed oil
Directions
Preheat oven to 400 degrees.
Cut tofu into 1.5 inch cubes, toss with turmeric, salt and pepper. Drizzle with oil and toss to coat. Place on a parchment paper lined baking sheet, with some room between each piece.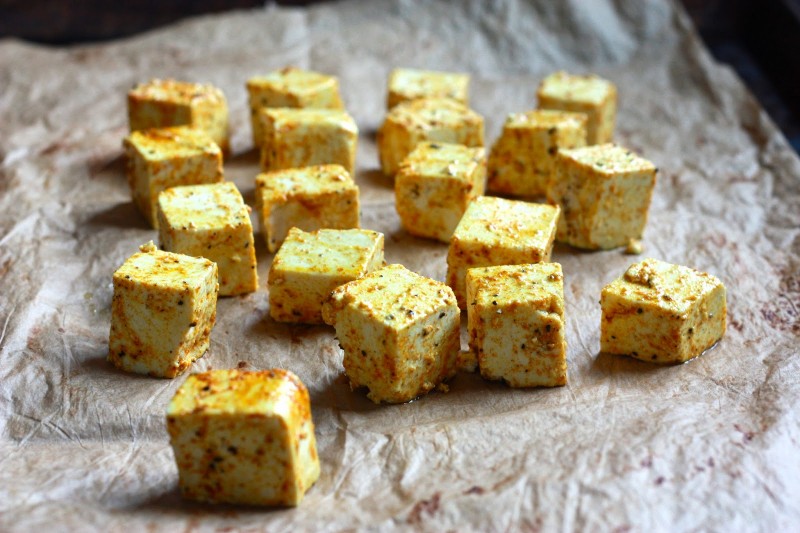 On the bottom rack, bake for 5 minutes. Rotate pan and continue for another 5 minutes. Flip tofu cubes and continue to bake for 5 minutes, rotate, and continue for the last 5 minutes, until golden and puffy.
*If you have a convection fan in your oven, I highly recommend using it for a puffier result. Some changes need to be made: use a 375 degree oven, position the baking sheet in the middle of the oven and remove after 15 minutes instead of 20.